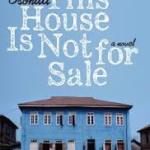 Take a collection of colorful, madcap characters linked by a Family House and the despotic grandfather, part god, part politician, and part semi-benevolent dictator, who rules the house. Add a rich sense of culture peppered by local dialect, humor, and the scents of cook fires and earthy, delicious foods. Spice with a hint of political commentary, a dash of folklore, and a sprinkling of miracles and magical realism. Stir with a clear sense of joy and love, a celebration of a place and its people, and what results is E. C. Osondu's debut novel, This House Is Not For Sale.
The novel consists of a series of tales, each one a sort of fable, moving inside the larger arc of the life of a legendary house known as the Family House. The house is in an unnamed African country abutting the Atlantic Ocean. The setting is an unnamed village with charismatic, opportunistic inhabitants and a sprawling array of shops and businesses. The tales are bookended by the beginning of the Family House, "How The House Came To Be," and its demise, "How The House Came To Be No More." The patriarch of the house is Grandpa, and the narrator is his grandson, who was "brought to the Family House over the long summer holidays" and appears more as the spinner of the stories, akin to Odysseus's Muse, than a central character. The house came into existence, the narrator says, when a, "brave ancestor of ours who was also a respected and feared juju man" dreams that he will be crowned king and travels to a distant land. There, he persuades the existing king to build him a mansion on the outskirts of his kingdom.
Inside the compound lives a bustling community of relatives and non-relatives, some of whom are in hiding, some of whom work to repay debts owed to Grandpa that can never be repaid, perhaps, as it was said, because Grandpa jinxed the owners of the debt. There is Ndoza the shopkeeper who is caught stealing from the sales money and is forced to parade half-naked through the streets to teach others a lesson about thievery. There is Ibe, a boy the narrator's age, who comes to the house with his mother when his father takes a second wife and brings with him a host of talismans and fantastic tales of sorcery. There is Gramophone, who fled to the Family House after having killed a man because, "there was only one place on this earth where no arm no matter how long could reach him, and that was the Family House." There is Tata, who gives her dead child to the river goddess in exchange for the gift of prophecy. Throughout, town gossip swirls about the house, some saying it is evil, a place of witchery and supernatural business, others saying Grandpa opens his arms to those in need, albeit at a price profitable to him.
Osondu's style is firmly rooted in Nigerian oral tradition. "My parents are very good storytellers," he told Marie-Claire Wilson in his Spike Magazine interview. "Folktales were a big part of my growing up." The is particularly evident in Ibe's story with its hypnotic cadence, fantastical lore, and continual repetition of the phrase, "Ibe said." But Raymond Carver, with his sparsity of language and "sense of narrative," as Osondu told me, is also a strong influence. "I think you'll see there is a mix of the two cultures in my stories," he states in his Spike Magazine interview.
The title of the book, Osondu told Marie-Claire Wilson, comes from a scam in Nigeria where people try to sell houses that don't belong to them.  In response, homeowners put up signs saying, "This House Is Not For Sale." With good-humored jabs at a corrupt political system, Osondu expands on this theme by painting a picture of scams, bribes, and suspect deals that are negotiated from inside the Family House. Grandpa knows his way around the government, the military, and the police, and he is always able to arrange solutions to problems that are mutually beneficial to him and to his residents.
The characters in This House Is Not For Sale are deeply flawed. They are greedy, deceitful, quick to commit "crimes of passion," or overly ambitious. And yet, Osondu brings them all to life with love. The dialogue, flavored by its ever-present chorus of unnamed voices, sparkles with humor, playful wickedness, and zest. Osondu gives us a strong and joyful sense of place in this novel. It is clearly a place he cherishes, and one that we, as readers, will come away cherishing as well.
About the Reviewer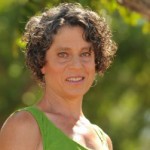 Naomi Benaron's debut novel Running the Rift won the 2010 Bellwether Prize for Socially Engaged Fiction. Her short story collection, Love Letters from a Fat Man, won the 2006 Sharat Chandra Prize for Fiction. Her fiction, poetry, and reviews appear in many in print and online journals. Currently, she teaches writing online for UCLA Extension Writers' Program and is a mentor for the Afghan Women's Writing Project.
[This review was originally published in Bookbrowse Journal]