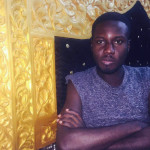 Amatesiro Dore is a 2009 alumnus of the Farafina Trust Creative Writing Workshop and 2015 Fellow of the Ebedi International Writers Residency. His work has been published and is forthcoming in Kwani?, Farafina, YNaija, The ScoopNG, Vanguard Newspaper, Brittle Paper, Bakwa Magazine, The Kalahari Review, The Ofi Press, Expound Magazine, Omenana and Chimurenga. His work was the Most-Read piece published by Bakwa Magazine in 2015.
---
After decades of family celebrations, my father left my mother on the eve of his sixty-sixth birthday. He told us the same way he preached at family devotions: calm and concise. He wanted to marry a new wife and he didn't believe in polygamy. And mother was going to get our family home in Ikoyi with "ample pocket money". After which he married a pregnant family friend and fathered two children in two years.

Yet my mother wouldn't let go. She travelled to Iseyin to bring him back. First she recounted her faithfulness and his betrayal at the graves of his parents. Then she consulted an Oro priest at a shrine on Ebedi, one of four hills surrounding Iseyin. She said the oracle made impossible demands to bring back her husband: two cups of Otire beans, fishes from a stream at Ipapo, a litre of water from Awaye and a local Talking Drum (newly made and unbeaten). The babalawo refused cash in lieu of the ingredients. Somehow my mother gathered the ingredients as instructed and he performed the rituals. Not that I disbelieved my mother but whenever I pressed for details about her Iseyin escapades she would say: wetin my eye see, my mouth nor fit talk am!

I remembered my father telling Iseyin tales on my childhood bed. Otire beans would never cook and the little fishes of Ipapo remained alive in boiling water. Both were myths but the hanging lake of Awaye was a real tourist attraction and the midnight sounds of the Talking Drum were authentic nightmares. Girlfriends freaked out in my bedroom whenever the sound of the drumbeat and my mother calling my father began at midnight. Alero was different, she never gave me the look that said my mother was a weirdo; she wept after hearing what my father had done. And I considered marriage for the first time. Read the full story here.