From Limbe to New York, a New Search for the American Dream.
Limbe is a coastal resort city by the black, sandy beaches of the Atlantic in the Anglophone South West Region of Cameroon. It is also where Africa's first million dollar novelist, Imbolo Mbue was born and raised. Her debut novel, "Behold the dreamers" is partly set there. Most of the flashbacks in her novel also go there. Imbolo's very moving reminiscences of places like Half Mile, Down Beach and Isokolo, resonated with me  because they are all places that I lived in or visited in Limbe while growing up. Yet, no matter how neatly she paints the portrait of that clean city in her novel, it is ironically a place that she left. It is also a city which her novel's two main characters, Jende and Neni Jonga also leave behind.
The Jongas migrate to the US to realize the American dream. This happens at a time when another dream is about to materialize -the election of its first African American president. Jende luckily finds work as a chauffeur for Clark Edwards, a rich senior executive at Lehman Brothers. His wife, Neni also gets temporarily employed by Clark's wife, Cindy Edwards at the couple's summer home. America seems beautiful at first and the story flows smoothly against the backdrop of two cultures and two marriages, children, family members, friends and colleagues. But as Imbolo begins to deepen and darken the world of the Edwardses, their narcissistic convictions and marital collisions slowly get exhumed. Wall Street gets pushed to the wall with the collapse of Lehman Brothers and the financial markets crash. A series of events trigger the Edwardses' marriage to ultimately crash. The earthquake that hits the Edwardses reverberates hard on the Jongas. In a desperate attempt to fight deportation, Jende is compelled to make a difficult decision at the end, which seems a little prophetic with regards to present day America under the Donald Trump presidency.
The first strength of the novel is its kaleidoscope of intriguing characters. It is so deftly handled the novel reads like a whirlwind. Apart from the main characters, a few others are quite memorable too. Vince Edwards is weird in a nice way. He is so rebellious of the trappings that go with his father's Wall Street wealth that he yearns for his personal and spiritual freedom. Bubakar is an optimistic Nigerian immigration lawyer without legal depth. But he knows how to conceal his weaknesses in a constant show off of pep talks. Leah is nice but a worried and intrusive lady. Fatou is interesting, funny and a little crazy.
Mbue is a keen listener of language and she experimented with it a lot in her novel. She uses language with dexterity and imparts a lot of variety to it. She writes in a combination of American English, Ebonics, a unique type of Cameroonian English, nineties Cameroonian Pidgin English, her local Bakweri language and tosses in some French. African like expressions and exclamations abound. There are ones like "Helele, Ashia ya, Chai! Mamami eh!" which are typically Cameroonian. There is also intentional horrible language, which can trigger an English teacher to look for a cane and wallop a few of the book's characters on their heads. Fatou speaks a wrong blend of English, Ebonics and French -probably due to her little education.
"Then we gonno do we eye-bro and we do we nails and we gonno go to all-we-can-eat Chinese restaurant because today is day for mothers and we musto be very, very special".
Jende's lingual showmanship of sheer garbage in his diary entries is so comical. "…But the slow traffic discombobulated Mr. Edwards because he has meeting at 7:45…It looks like she just comes out of a car too". The blunder part of the brain has to be on full alert to maintain the consistency of such grammar.
Imbolo is one of those authors who include unexplained non English words and jargon in her writing. There is no glossary explaining anything at the end. I'm all for unexplained local lingo in fiction. However, I did some blog work on the definitions of some of the italicized non English words which cannot be found easily on Google.
http://nkiachaatemnkeng.blogspot.com/2017/03/definitions-of-some-of-italicized-non.html
Dialogue is certainly one of Imbolo's literary strengths. I agree with Tope Folarin when he said Imbolo can succeed as a playwright in future. She uses it to her advantage a lot in this book. There is engaging dialogue left, right and centre that thrusts the plot forward -numerous phone calls, maids gossiping, family/friend chats and simple tête-a-têtes. Some of the dialogue is reported through frequent eavesdropping. For instance, Jende often listens keenly to all what Clark says on the phone in the backseat while he's driving.
The writing in the novel itself is the major factor that makes it wonderful. It is very simple and concise. Here are some of my favourites.
The Dow would drop in titanic percentages. It would rise and fall and rise and fall, over and over, like a demonic wave. 401(k)s would be cut in half, disappear as if stolen by maleficent aliens. Retirements would have to be postponed; visions of lazy days at the beach would vanish…She, lustrous in a red strapless trumpet gown; he, youthful and suave in a perfect-fitting tuxedo…My mouth will start bleeding like a slaughtered cow's…He seemed to need them desperately like a scorched land panting for rain…Killing the roaches that sprinted from one end of the living room to the other like track-and-field athletes.
Another device which makes Imbolo's writing engaging is her great sense of humour. It comes to her naturally
"Asylum is the best way to get papier and remain in the country…Either that or you marry an old white woman in Mississippi with no teeth."
"Please, God forbid bad things," he had replied.
…And the interruption of his secondary education at National Comprehensive Secondary School after he impregnated Neni.
"Eh? You stopped because you pregnant a girl?" Bubakar said, jotting down something.
Instead of Angelina Jolie, listen to Fatou complimenting Neni by inventing another celebrity entirely,
"Now you look lika Angeli Joeli"
The novelist generally makes use of imagery and a wide range of stylistic devices which make her work really strong. Among them is her surfeit of flashbacks. She constantly returns to Limbe again and again. A friend made a remark after reading the novel, "Imbolo misses home. She really misses Limbe after all her time in America." Imbolo writes so movingly about her hometown the book may prompt you to buy a plane ticket and fly to Cameroon just to discover the place. However, the greatest irony about Limbe in the book is when Jende's boss, Clark asks him just after his nostalgic description of the town while Jende is driving,
"If Limbe is nice, why are you here?"
You can instantly feel Jende tucking away his sentimental attachment to Limbe. He recoils and spews forth exaggerated tales about the unemployment and hardship of Cameroon -to justify his presence in New York. Of course, Limbe is nice but New York is nicer. Cameroon is no match to America. And that was why Jende went there -to hope and dream. Little did he know that, his boss was already anxious in the backseat of his car about the storm that was about to send Lehman Brothers crashing. When Lehman eventually collapsed and Jende's attempts to get an asylum prove futile, he's forced to ponder the concept of the American dream. The idea gets turned on its head for him as anxiety also creeps in. He experiences America tumbling into the same kind of recession that rocked Cameroon in the nineties. Her writing on the financial crisis poignantly peaks in chapter twenty seven.
A lot of attention was paid to plot. The reader cannot easily guess where the story is headed. The book reflects the state of flux between Imbolo's homeland, Cameroon and America. Just like Jhumpa Lahiri in "The Interpreter of Maladies", Imbolo shuttles between two continents and two cultures and contrasts them. "Behold the dreamers" is a good image of American culture contrasted by the Jongas' reflection of Cameroon in Jende's rear view driving mirror. The few Latino characters and Fatou from Francophone Africa add a little bit of total internal reflection, which produces some interesting mirages on the book's road. The US based Cameroonian characters talk and act in typical Cameroonian manner, though they may have lived in America for years.
Still on the point of culture, "Behold the dreamers" is a great celebration of culinary delights on both continents. The author elucidates on American cuisine in chapter 24, you would think she is a celebrity chef in American cook shows. Then she turns around and dissects Cameroonian/West African cuisine you would guess she's the chief cook at your favourite African restaurant.
There is also the love of music in the book -references to Cameroonian Makossa musicians like Eboa Lotin, Petit Pays, Charlotte Mbango, Tom Yoms and other African artists like Koffi Olomide and Papa Wemba. Characters cinematically gyrate to the nineties hit, "200% Zoblazo" by Ivorian artist, Meiway. Mbue's love for music doesn't just end with recorded songs. It extends to oral singing too -many of the church and childhood songs in Cameroon, with lyrics in English, Pidgin English and Bakweri. The only thing Cameroonian which was missing in this novel is our footballing exploits. Jende has no memories of our legendary 1990 World Cup exploits and our five Afcon victories.
"Behold the dreamers" hasn't got a single editorial mistake. The editing is flawless. But I'm not going to applaud the editing of a million dollar novel published by one of the world's most prestigious publishers. Such excellence is expected. The Janson typeface text with large fonts and lots of spacing makes the book an easy read.
There were a few things in the novel that I didn't like. Winston seemed flawless and so cool throughout the novel he wasn't entirely credible to me. Neni did and thought about a few actions in the latter parts of the book that didn't seem like the character of Neni to me -especially what she did to Cindy the last time they met. It felt forced. Though Neni admitted that maybe she was becoming a different person, I still felt uncomfortable with the different neni. However, it is difficult to believe, "Behold the dreamers" is a debut. The novel is well plotted and has well-rounded characters. Imbolo Mbue burst onto the literary scene with this novel and it is a well-deserved million dollar arrival.
About the Reviewer
N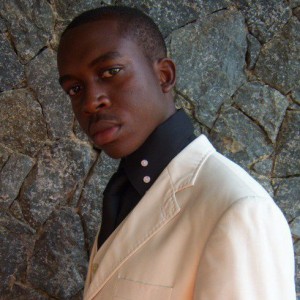 kiacha Atemnkeng is a Cameroonian writer based in Douala where he works for Swissport at the Douala Airport. He was Ethiopian Airlines Cameroon's first blogging award winner and also winner of the Entrepreneurship category in the Vodafone Cameroon writers competition. He attended the 2017 Nigeria Cameroon Literary Exchange project and the 2015 Caine Prize writers workshop in Ghana, where he wrote, "Wahala Lizard" published in "Lusaka Punk and other stories". His illustrated story book for children, "The Golden Baobab Tree" was published by Aalvent Books in the US in 2014. His short story "Bad Lake" was runner up in the Bakwa Short Story competition. His work has been published in the 2014 Writivism anthology, Fabafriq magazine, Bakwa magazine, This is Africa, www.jump.cm and the Caine Prize blog. His musings can be found on his award winning Writerphilic blog, nkiachaatemnkeng.blogspot.com and on twitter: @nkiacha