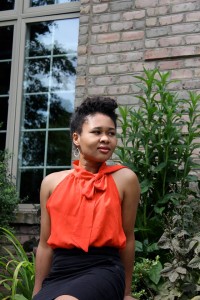 We present a conversation between NoViolet Bulawayo and Chinelo Okparanta, two of the most talented writers of our time. The focus of the interview is on Okparanta's debut short story collection, Happiness, Like Water, but the writers cover other topics as well: food, the creative process, literary awards, multiple identities, and future writing projects. Bulawayo's questions are thoughtful and engaging, and Okpranta's answers a precise and incisive.
Chinelo Okparanta was born in Port Harcourt, Nigeria. She received her BS from Pennsylvania State University, her MA from Rutgers University, and her MFA from Iowa Writers' Workshop, where she served as a Provost's Postgraduate Visiting Writer. She is the author of 'America' (2012), which was shortlisted for the 2013 Caine Prize for African Writing. She has been nominated for a United States Artists Fellowship in Literature, and her collection of short stories, Happiness, Like Water (2013) was long-listed for the Frank O'Connor International Short Story Award.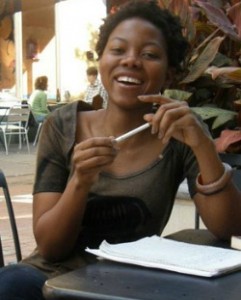 NoViolet Bulawayo is the winner of the 2011 Caine Prize for African Writing and a recipient of the 5 under 35 Award from the National Book Foundation. Her first novel, We Need New Names, was short-listed for the 2013 Man Booker Prize. She is currently a Wallace Stegner Fellow at Stanford University.
---
This is a topic you are probably tired of at this point, but still, congratulations at being most recently shortlisted for Africa's leading short story prize, the Caine Prize for African Writing. What did that mean to you?
Yes, it's a topic that has been coming up a lot lately. Many thanks for your congratulations. It was wonderful to have my work recognized by the Caine Prize. It was my first experience in a literary prize situation, and it was definitely a learning experience. I am grateful to all the wonderful readers who came out both privately and publicly to express their support for my writing. People say that they never forget an insult. For me, it's the encouragement and the kind words that I never forget. Kindness is so rare these days that it startles. As for the Prize itself, all prizes are political and, like anything else in this world, they are flawed. But prizes are also essential in promoting readership; and as writers often write about important sociopolitical topics, literature—and the prizes that support it—can be seen as gateways to change.
Which is all to say that I was pleased by the nomination.
Read the rest of the interview here and join the dialogue.