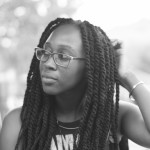 Pemi Aguda writes short stories and flash fiction. We have published her before, and now she returns with another touching story entitled "Help Jimi Help Himself".  Her stories have appeared online and off – in literary journals and anthologies. Her short story "Caterer, Caterer" won the 2015 Writivism Short Story Prize; published in Munyori Journal and the Roses for Betty anthology.
---
Help Jimi Help Himself
You crack the door open and the room turns silent. You push the door wider to find them all staring at you. Your eyes find the ground; and then you lift them back up- to the familiar downturn of your father's lips. They etch a sad curve in his wrinkled face and his eyes look straight into you, assuring you of the part you have played in carving happiness out of his face.
"Good evening," you say as your knees lower to rest on the thinning green rug. This position reminds you of younger years and scolding and punishment and oh, the childish eloquence when defending your little brother. These old feelings have found you kneeling again in your father's house and they stir again in your chest, twenty years later – because you know Jimi is the reason they have called you. Read the full story here.