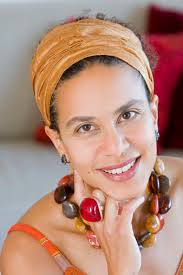 Munyori Literary Journal has just reviewed Manyika's second novel, Like A Mule Bringing Ice Cream To The Sun, which was published this year by Cassava Republic Press Abuja-London and was officially launched in Harare. The following is an exciting conversation which writer/literary journalist Beaven Tapureta (BT), recently held with Sarah Ladipo Manyika (SLM) about herself, her works and few issues related to her writing career.
---
BT:    Who is Sarah Ladipo Manyika?
SLM: A work in progress … which first began in Nigeria. Sarah was raised in Nigeria and has lived in Kenya, France, and England. She holds a Ph.D. from the University of California, Berkeley, and for several years she taught literature at San Francisco State University. Her writing includes essays, academic papers, reviews, short stories and two novels. She's passionate about the arts, and strives to support other artists in her role as Board Director at The Museum of the African Diaspora in San Francisco, and the writers' retreat, Hedgebrook. Sarah is also host of OZY's video series, Write. Sarah loves food, she loves to eavesdrop, and she loves to run. Sarah also enjoys stepping outside herself to watch this "third person" as she progresses.
BT:    Tell us more about your childhood – was it linked to writing?
SLM: I am the daughter of an Anglican clergyman so I grew up listening to sermons and taking special delight in the stories that my father used to illustrate Biblical points (except when the stories were about his children, which they often were).  I grew up in a town called Jos, in Northern Nigeria, at a time when Jos seemed like such an idyllic, cosmopolitan town. I went to an American missionary school and had friends of many different nationalities and religious faiths – such syncretism fed my imagination as a writer. My family later moved to Nairobi, Kenya, and then on to London, England, and in the course of these travels we moved house many times and I attended five different schools. The peripatetic nature of my childhood compounded my teenage sense of not quite belonging, nudging me ever closer to books in an on-going search for home.
BT:    How about your parents, did they understand and support your writing career?
SLM: Yes, my father is probably the most prolific purchaser of my books and he insists that his book group reads all that I've written. My mum is the true writer in the family and my better-edited pieces are always those that she has had a hand in proofreading before they are published.
BT:    How do you view Zimbabwean literature today?
SLM: What amazes me is the variety of stories that I see coming out of Zimbabwe and its Diaspora even at this challenging point in Zimbabwe's history. There are stories of resilience in times of adversity, stories tackling taboo subjects, stories challenging norms and breaking rules, stories written by young writers and old writers, by black and white. I'm particularly fond of Weaver Press and their short story anthologies, which introduce me, each year, to new names.
BT:    Who are your favourite Zimbabwean authors and why?
SLM: I love the narrative voice in NoViolet Bulawayo's writings. I admire the courage of writers such as Tendai Huchu and Barbara Mhangami-Ruwende in tackling taboo topics. I enjoy the playfulness and innovativeness in the writings of Brian Chikwava and Petina Gappah. I also enjoy the story-telling element in Oliver Mtukudzi's lyrics and in Nora Chipaumire's awesome performances. I admire journalists such as Beaven Tapureta who, even in the midst of difficult social and economic conditions, continue to find ways to write and write so well. To all of Zimbabwe's writers at home and abroad who are bravely speaking truth to power, and often at great personal risk, I am humbled, grateful, and inspired by what you do.
BT:    Was there a special reason for launching your second book in Zimbabwe?
SLM: Zimbabwe is a home through marriage so it seemed like a natural choice to launch my second book during a family visit to Harare.
BT:    When is the Nigerian launch of your books and when is the American launch?
SLM: The book is already out in Nigeria and I hope to do a few readings in Nigeria towards the end of the year. The American book launch is in April 2017.
BT:    Has your marriage to a Zimbabwean changed your perspective on Zimbabwe culturally or otherwise?
SLM: Being married to a Zimbabwean has made me even more of a Pan African than I was before I met my husband.
BT:    How do you see yourself in Zimbabwe?
SLM: I see myself as I do anywhere else, but in Zimbabwe I have the added bonus of belonging in the sense of being a muroora and amai to the muzukuru. Being both an insider and an outsider is a gift to a writer such as myself who is constantly observing and listening.
BT:    Do you use black consciousness/conscience?
SLM: As a black woman who has lived in many countries, I am conscious of what it means to be black in different parts of the world. I've written about being black and about issues of racial justice both in my fiction and more specifically in my essays Oyinbo and Coming of Age in the Time of the Hoodie. The writer, James Baldwin, continues to be a great inspiration to me as I think and write about these issues.
BT:    Do you write with a particular audience in mind?
SLM: I write for myself and anyone else who enjoys a good story and is eager to read about characters that are still underrepresented in literature.
BT:    What is the main difference between your two books?
SLM: I'm writing with more confidence in my second book and not worrying so much about conforming to literary norms. My second book is also more playful than the first.
BT:    What do you think about Western/European publishers and African publishers?
SLM: I recently wrote two pieces, Betting on Africa and Why I chose an African Publisher Over a Western One on my decision to choose Cassava Republic Press, a publishing company based out of Nigeria, to publish my second novel. I realized that by granting world rights to an African publisher I could, in a small way, attempt to address the imbalance of power in a world where the gatekeepers of literature, even for so-called African stories, remain firmly rooted in the west.
BT:    Are you an African writer? What is an African writer in your view?
SLM: Yes I'm an African writer and a British writer and an American writer and a global writer and a female writer and a black writer and a serious writer and a silly writer and … All this to say that my being African is a salient part of my identity but only one part.
BT:    Any latest news about yourself or your books, which you want readers to know?
SLM: I have a forthcoming essay entitled This is San Francisco. This is my first long form essay on the city in which I now live so I'm excited to share it. I hope my readers will find it of interest.
BT:    Thank you very much.