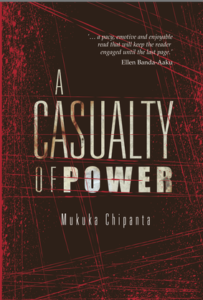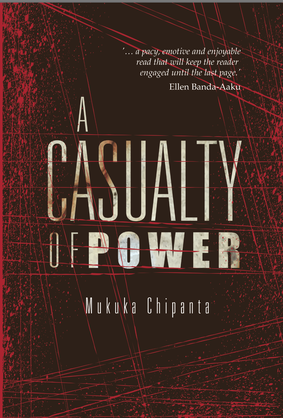 A Casualty of Power (Weaver Press, 2016) reads something like a thriller, and it is as difficult to put down, while simultaneously exploring some of the fundamental issues bedevilling post-colonial Africa. The experiences that Hamoonga Moya, the Zambian protagonist, endures will resonate with many in the sub-region. Corruption in high places and the recolonization of assets by our fair-weather friends offers a reality that we are quick to recognise. Hamoonga, a hopeful young student, becomes inadvertently caught up in a web of corruption and violence, suffering for crimes that he never committed.
Serving seven years in jail as the powers know that an innocent man can have a powerful story to tell, Hamoonga is finally released with an amnesty. Making his way home to the Copperbelt, embittered not only by his incarceration but by the death of his mother during his absence, he has to find work, and this is very difficult.
Eventually, he finds a job on a mine, and reluctant as he is to involve himself in politics, he slowly finds himself drawn into Union politics; and, after a close workmate is killed, is pushed into a leadership position. The protagonist's metamorphosis into a hardened revolutionary prepared to lay his life for justice and fairness for his people, is a crucial development in this story. Justice must be served. Like Matigari, he seeks the justice that liberation armies fought for, but the sad irony that confronts him negates the ideals that gave impetus to the wars that liberated Africa from the former imperialists. The experience of the African on the liberation front has been like the proverbial leap from the frying pan into the fire! What it is more poignant is that new oppressors, aided and abetted by local leaders have taken over; and with hard-nosed rapacity they gather all they can, while the window of opportunity is still open. The ruthlessness of the supervisors at Chishimba Mine, their refusal to take in the African work ethic as well as honour cultural customs and traditions are tell- tell signs of their insatiable nature. All is sacrificed (the resources, the environment, the African labour-force, their culture, aspirations and desires) at the altar of avaricious mercantilism.
However, as the story progresses it is evident that though the people's power may be slow in coming, but as sure as the sun will rise from the East tomorrow, it will come. And when it eventually comes it consumes the corrupt in its wake. The fire that devours Minister Zulu, his wife and their henchman Babu is a pointer that eventually justice will be served and the corrupt will burn. Even the fear engendered by infiltration of all layers of society by informers will one day dissipate and the likes of Mtisi will be made to account for their part in the rot.
An undercutting irony of this story, however, is that much as some people may think they stand to benefit from the greed, there are no winners. All are instead adversely affected and hence casualties of power. This does not exclude the powerful. The repercussions of unfettered greed filter to all; the Chinese are affected (look at Jinan for example), the high and mighty Zulu and wife die a fiery death, the ordinary people in the townships and revolutionaries like Hamoonga are all infected by the same malady.
For a debut, this novel is a must read for all lovers of African Literature. Mukuka Chipanta has definitely established himself in Africa's literary hall of fame. It is quite clear that this author has talent and great promise. We eagerly await his next offering!
About the Author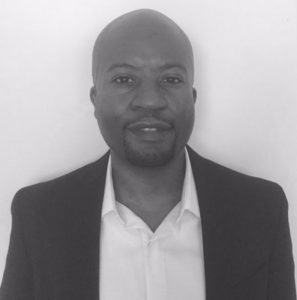 Mukuka Chipanta is an Aerospace Engineer and Program Manager currently residing in the Washington DC metro area with his lovely wife Sandra. Born in Zambia, he spent his formative years in the mineral rich Copperbelt Province near the border with the Democratic Republic of Congo. Mukuka has several degrees in Engineering and Business from the United Kingdom and the USA. One of his proudest professional achievements is having played an integral role in designing the Boeing 787 Dreamliner airplane. He has travelled widely across North America, Europe, Africa and Asia and considers himself a global citizen with a heart firmly rooted in Zambia. His passion for telling stories originates from many nights as a boy spent listening to the colourful tales told by members of his expansive family. He is currently working on a number of new writing projects which he hopes you will be able to read in the not-too-distant future. A Casualty of Power is his first published novel.
About the Reviewer
Taurai L. Chinyanganya has taught English language and literature at a number of schools in Zimbabwe. Currently he is a lecturer in the Languages and Literature Department of the Zimbabwe Open University based at the Mashonaland Central Campus in Bindura.