September 18, 2017— Graywolf Press has announced the Graywolf Press Africa Prize, to be awarded for a first novel manuscript by an African author primarily residing in Africa. The prize will be judged by A. Igoni Barrett, author of the acclaimed novel Blackass, in conjunction with the Graywolf Editors. The submission period will run from October 1—October 31, 2017, and a winner will be announced in early 2018.
Submissions must be full-length, previously unpublished novel manuscripts, either originally written in English or a complete English translation. The winning manuscript will receive a $12,000 advance and publication by Graywolf Press, which will include a dedicated effort to making the book available in major markets in African countries. We will be accepting submissions through our page on the website Submittable.com. For instructions on using Submittable click here, and if you have questions or difficulty using the site, please email submissions@graywolfpress.org for assistance.
Graywolf Press is always looking for work that is distinctive, artistically singular, and of a high literary quality. For this prize, we are seeking novels that are engaged with the current moment—stories that could only be told in our time. We look forward to encountering authors who approach contemporary issues with innovative prose and fresh perspectives.
Graywolf is excited by the wealth of talented and imaginative writers coming from a wide range of African countries. With this prize we hope to amplify the voice of a new author, whose novel will be published alongside exemplary African writers on the Graywolf list such as Tsitsi Dangarembga (This Mournable Body, forthcoming 2018), Binyavanga Wainaina (Someday I Will Write About This Place, 2012), Nurrudin Farrah (Sweet and Sour Milk, 2006), Anouar Benmalek (Lovers of Algeria, 2004), and this year's judge, A. Igoni Barrett (Love is Power or Something Like That, 2013 and Blackass, 2015).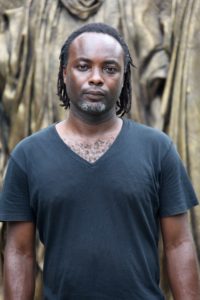 Igoni Barrett is the author of a story collection, Love Is Power, or Something Like That and a novel, Blackass. Barrett is the recipient of a Chinua Achebe Center Fellowship, a Norman Mailer Center Fellowship, and a Rockefeller Foundation Bellagio Center Residency. He lives in Nigeria.
Graywolf Press is an award-winning independent publisher committed to the discovery and energetic publication of contemporary American and international literature. Founded in 1974, the press is located in Minneapolis, Minnesota (www.graywolfpress.org).