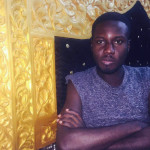 Amatesiro Dore is a 2009 alumnus of the Farafina Trust Creative Writing Workshop and 2015 Fellow of the Ebedi International Writers Residency. He has been published and forthcoming in Kwani?, Farafina, YNaija, The ScoopNG, Vanguard Newspaper, Brittle Paper, Bakwa Magazine, The Kalahari Review, The Ofi Press, Expound Magazine, Omenana and Chimurenga. His work was the Most-Read piece published by Bakwa Magazine in 2015.
---
Love by the Talking Drum
As she wiped my father's chin, my mother spoke in her roundabout manner.
"Lydia call me today. You remember ? You been small that time," her Warri tongue made melody with every word.
I remembered the woman who lived in our former neighbourhood at Agege. Local apples grew in her compound: whitish pink, heart-shaped and dwarfish. I couldn't remember the taste. Tastes of the red, green imported apples had penetrated my childhood memories like Warri English on my mother's tongue.
"I used to pluck apples in her compound?"
"Yes, you ! I been get belly then, twins!" She sighed.
Children were the landmarks of my mother's memories. Her timelines were arranged according to her failed pregnancies and stillbirths.
"How did she get your number?"
"Facebook! She never old at all! Her body fresh and her skin dey shine yo-yo-yo." My mother removed the bib from my father's neck.
There was something ungodly about the way she cared for him. As if to say: look at me, the dutiful wife, taking care of the motherfucker who left me and ran away with his best friend's daughter.
"me my shower cap." She stripped him for the bathroom.
All that remained of my father were his eyes and ears. The rest of him displayed a syndrome: involuntary emissions and body shakes.
"You were telling me about Aunty Lydia."
As my mother recounted the tale, I remembered the details. Aunty Lydia was eighteen when she married the man, a youthful Lagos guy who "changed cars every three months". One harmattan afternoon, I was plucking apples in her compound when the police came with guns, bulletproof vests and all the ghen-ghen of the Special Anti-Robbery Squad. A policeman shoved my seven-year-old body into a police truck. Pregnant Aunty Lydia, her toddler and aged mother-in-law, Whiskey and Bingo the dogs, Aboki the security guard and pedestrians on the street were also carted away. I remembered the portrait of General Sani Abacha at the police station where my parents negotiated my bail.
"How pikin wen dey sweep ground, go know say him dey guilty of aiding and abetting a criminal organisation?" My mother wept.
"Officer, I thought he was a common 419. Do you think I'll keep quiet and endanger my life and family if I knew he was a notorious armed robber?" My father offered the naira notes for my freedom.
"Lydia suffer o! She sell everything but they still kill the man with firing squad!" Mother towelled Daddy.
The military government confiscated the convict's property and Aunty Lydia returned to her village. Facebook didn't reveal how she catered for her fatherless children, obtained a university degree and established an automobile parts business. She was getting remarried after many years and that was all my mother cared about.
"I nor ask how she survive and me self hide my own problem for pocket." Mother massaged Daddy with oil.
I remembered my own problem: Alero left me and said she was never coming back.
"At least Lydia go school, she get vision. Na her Papa marry am give armed robber. If I been get vision, I for hear my Papa word when he say make I go school. Your Papa for nor use me play football. But we thank God. At least my husband come back!" She clothed him in pyjamas.
The way my mother behaved made it look as if getting married was her bachelor's degree, staying married was a master's degree and she would obtain a PhD at widowhood. She acted as though she was stripped of her degrees when my father divorced her and married Funmi.
Funmi's dad and my father were neighbours at Iseyin and classmates at Kings College, Lagos. They became friends at the University of Ibadan. And though their wives never got along, their friendship started several businesses and founded our Bank. Mother said Aunty Lara was jealous because her father's wealth couldn't beautify her face. And everyone knew she found a husband only because of her pedigree. So I understood why Aunty Lara said my parents had traded my siblings for blood money. And it didn't help that Aunty Lara had nursed five children while mother was looking younger and unmarried before I arrived.
I was three when Funmi was born into her family of five brothers. Apart from her father, I never met them until our families became neighbours on Queens Drive. At our housewarming party, I watched from a balcony while Funmi and her brothers walked among the jewels of Lagos: members of the Victoria Island and Ikoyi residents' association, military officers in power, foreign diplomats and some civilian politicians. While mother governed the flow of food and drinks at our owambe shindig, Aunty Lara and her university degrees had something to say about politics, business and other arenas of men. She was discussing with a newspaper editor while mother paid attention to the First Lady and her entourage. For her newsworthy remarks about the military regime, Uncle Jide banished Aunty Lara from subsequent events and sentenced her to remain at home with their children.
"I call Alero today," mother dragged my mind back. "We talk for Skype."
Why did I marry Alero? Why do people get married? You love the girl and the girl said she loves you too; society prepared her for marriage but nothing prepared the man. All we learnt was how to fuck and make money; no one prepared us for a woman, for the wife, for the rights of another human being.
After decades of family celebrations, my father left my mother on the eve of his sixty-sixth birthday. He told us the same way he preached at family devotions: calm and concise. He wanted to marry a new wife and he didn't believe in polygamy. And mother was going to get our family home in Ikoyi with "ample pocket money". After which he married a pregnant family friend and fathered two children in two years.
Yet my mother wouldn't let go. She travelled to Iseyin to bring him back. First she recounted her faithfulness and his betrayal at the graves of his parents. Then she consulted an Oro priest at a shrine on Ebedi, one of four hills surrounding Iseyin. She said the oracle made impossible demands to bring back her husband: two cups of Otire beans, fishes from a stream at Ipapo, a litre of water from Awaye and a local Talking Drum (newly made and unbeaten). The babalawo refused cash in lieu of the ingredients. Somehow my mother gathered the ingredients as instructed and he performed the rituals. Not that I disbelieved my mother but whenever I pressed for details about her Iseyin escapades she would say: wetin my eye see, my mouth nor fit talk am!
I remembered my father telling Iseyin tales on my childhood bed. Otire beans would never cook and the little fishes of Ipapo remained alive in boiling water. Both were myths but the hanging lake of Awaye was a real tourist attraction and the midnight sounds of the Talking Drum were authentic nightmares. Girlfriends freaked out in my bedroom whenever the sound of the drumbeat and my mother calling my father began at midnight. Alero was different, she never gave me the look that said my mother was a weirdo; she wept after hearing what my father had done. And I considered marriage for the first time.
"Alero say them promote am for work. I wish say I go school. Me self for dey sign paper and travel abroad for promotion. But see my life! If not for your papa, wetin I for do?"
I always knew my mother thought her life was meaningless without my father. The same man who disgraced her. Was this the life of a woman, a wife and a mother?
"I wish say person go promote me. Say if I be better wife, I go get better husband. Travel abroad for further training and get better one if the current one fuck up." She kissed his head on the pillow.
I never imagined she would have left my father if she was an educated woman with a working career. Who would have thought my mother would support Alero? She wasn't incensed when I told her Alero had aborted our baby, her grandchild. I saw envy in her eyes.
"Sha you be your Papa pikin…like father like son."  She sighed.
When did I become my father? When I slept with any woman before I met Alero? Or when I slept with anyone who said yes after my marriage? No one ever said I could say no; that a man could say no to infidelity; that yes was wrong.
"Look your papa, make I go baff."  She left me with him.
I wondered if she told him what I'd done. How I destroyed my marriage with my penis. Aside from his face and stature, what else did I get from him? When did I become an abuser of women and betrayer of friendship?
My mother returned after a feminine hour in the bathroom, checked if Daddy was comfortable in bed, and spent more minutes in front of her dressing mirror. Was it faith or madness? That he would return to appreciate her retouched face, wrinkle-free neck, reduced breasts and flat belly. After four years of beating the Talking Drum, during which I met and married Alero, my father returned. But the truth was: she begged his legal wife to release him from a UK nursing home.
While praying and waiting for him, she wore his smells: a whiff of masculine cologne and cigarette smoke. When her soul bled and memories flooded her eyes, she wore his bathrobe and smoked his brand of cigarettes in their bedroom balcony. That was where I told her about marrying Alero.
"Come make we go balcony," mother led the way with her cigarette pouch.
The balcony at the back of my parent's bedroom hung in front of the McGregor Creek. During the weekends of our glory years, boats crowded our jetty and their owners lolled at our parties. Recent years had turned the creek into my highway to work and back. Traffic jams on Falomo, Ozumba Mbadiwe and the Lekki Express frustrated driving.
"You will quit smoking," I said in Yoruba.
My mother giggled as she lit her cigarette. I was returning from work when I first saw the orange light of a cigarette on her balcony, and I thought my father had returned. I dashed upstairs to find my own mother smoking a cigarette. Then she told me about reporting my father's smoking habits to her mother-in-law.
"Cigarette doesn't kill. It's death that kills. If death catches you with a cigarette, you will quit smoking," my grandmother spoke Yoruba to my father.
Even when I heard my father was sick, I'd assumed it was cancer but it wasn't. Yet, when did he know? Was it before or after divorcing mother?
"Why you disgrace me like this? You wan end up like your Papa? Who go pack your shit when you old?" Mother blew sorrowful whiffs at me.
I told her the devil caused it. It was the devil; the one in my blood and pants. But I did it because I could. Nothing was stopping me. I sinned at the first sight of her naïve eyes, perky blossoms and butter-filled behind. It was my wedding reception but I needed someone new. I asked who she was and my best man scowled. I'd not seen his little sister in many years and puberty had done her well. Sixteen was looking twenty six and I didn't care. As God would have it, she was searching for a summer job and I was a bank executive. I planned to chop and clean mouth. Who would know? Until a blogger sent a mail for me to confirm or deny the accusations: that I raped and impregnated her; arranged for her to have an abortion then fired her.
"Why you disgrace me like this?" my mother cried.
I felt she was also crying for the man on her bed. The reason she was begging Aunty Lara to make Funmi get a divorce was so she could remarry him. Those tears made me sad and sorry. For my masculine sins, for the women I wronged, and the love I never had.
"I'm not doing love by the talking drum," my wife said. "I won't waste my life singing for you."
That was how the hourglass drum of a Yoruba orchestra became an instrument of heartbreak. How I wished for those years when those drumbeat rocked our parties, swayed men and hypnotised women, quaked breasts and shook behinds. And I cried on my bed as my mother sang the name of my father in that sweet manner women suffered for men. And she played her Talking Drum to bring back his strength and mind.
*
Two years after divorcing my mother to marry Funmi, my father called. I felt guilty for accepting his invitation to visit his Banana Island residence: a monument of maternal grief. Nonetheless, I needed a father and he needed his son and our interests had collided at a time when we were most desperate for the other.
"Come and see me," my father said.
"Ok," I said and our quarrel was over.
Two crescents and seven minutes separated Queen's Drive from Banana Island. I covered the distance between my parents like Judas going to the Pharisees. After avoiding the Lagos neighbourhood of Nigerian billionaires for two years, I grieved with my mother when I entered the Taj Mahal my father built for Funmi: an all-white mansion with a garden facing the sea.
I prostrated at the sight of my father: almost thirty years of paternal worship and Yoruba upbringing were activated inside me. The joy in his eyes, his hands on my shoulders and years away from him overwhelmed my soul. What was there to forgive? What was his crime? He broke one heart, my mother's heart: he didn't kill her. Why should I lose my father over that?
Funmi was beside him. She was a younger version of Aunty Lara: short-sighted and bespectacled, sturdy and studious but with a boisterous personality. Despite my numeric seniority, I couldn't meet her eyes, my head bowed in greeting and my heart paid homage to her status. She was a part of my father, mother of my siblings, and my father wouldn't have invited me without her support.
"The prodigal son has come home," Funmi said, laughing.
"Come and see your brother," my father cooed at my siblings.
They were the blood and bones of my father. Our souls were formed from the same source. Was there anyone more beautiful than the two-year-old hugging me with all her soul, a face she had never seen before but a word she understood: brother! I cradled the little one, half a year old, and she nuzzled my chest as though in search of a nipple. For the first time, I experienced love at first sight.
"Welcome home," my father said.
Home was a cliché chandelier, white furniture and fluffy carpets made numinous by the presence of my father. It was as if God told him to leave my mother and marry Funmi. I would have believed if he said so. That was why I'd scurried through Ikoyi bookshops for the latest bestselling novels and children's books. I presented them to Funmi who always had a book with her. She embraced me and my father smiled at me.
"So what did you buy for me?" My father asked.
Twenty-five litres of palmwine: fresh, undiluted, and straight from Iseyin. You are my son, my He said it thrice. When life rained on me, I remembered that moment and the approval of heaven in his eyes. That keg of palmwine brought about his blessing and curse.
"Let's go to the garden," my father said. "I haven't had a drink in two years."
At my father's garden, I remembered my mother. The canopies of coconut trees, flower-scented breeze with sandy particles, sounds of lapping waters, and the birdsongs mirrored my mother's balcony, her loss and grief. That was when I knew my relationship with him would remain tenuous like currents on the sea.
"Nowadays, mummy smokes on the balcony," I said.
My father poured another cup of palmwine. He took out a joint of weed from his pouch. He lit and puffed it as though my mother didn't exist.
"Life is hard for her," I said.
"Mofe has not worked for a day in her life. Everything she needs, I provided for her. Even now, she's well taken care of, she can buy whatever she wants, travel anywhere and do as she likes. How many men in my shoes will do half of what I did for your mother?"
"I didn't mean it like that."
"How did you mean it? Are you a wuss? Only a wuss would say such feminist crap. God knows I didn't raise a wuss. Or are you a cocksucker?"
"No sir." I prostrated on the carpet grass. "Please forgive me. I didn't mean to upset you. I'm very sorry."
"I've tried for Mofe. God knows I did my best but nothing is ever good enough for her. She goes about town spoiling my name, saying I'm a wicked man. Do I look like a wicked man? Will God bless a wicked man with a good wife and more children?"
I remained flat on the ground under emerging stars, waiting for the devil to leave and for his permission to rise. From childhood and throughout my teenage years, my father's rage would lead to a household beating. It could stem out of some delay in opening the gate for his car. It began with a few knocks on the head of his chauffeur, some slaps for the gateman and security guards, any house help in sight received kicks and blows. He would beat me crazy for previously unpunished wrongs then punish my mother for failing to prevent his tantrums. Only my mother would know the number of pregnancies she lost as a result.
"Go and get another cup for me," my father said. "You've made me break this one."
I dashed out of his presence and would have returned to my mother's if not for the wahala it could cause. He could drive after me to beat the hell out of us.
When I returned he was in a psychedelic mood for carousals. His temper was always quick to abate and he never held a grudge after punishing an offence; he truly forgave and forgot.
"God told Adam and Eve not to eat the fruit of good and evil," my father said. "But Eve ate it. Then she studied the heavens and the earth. When God visited, Eve had accumulated all the knowledge of the world from the tree of good and evil. What she gave Adam was a mere fruit, an ordinary apple, without the knowledge of good and evil. Do you know the first question God ever asked?"
"Adam, where are you?" I said.
"What did Adam reply?"
"I am naked," I said and we collapsed in laughter.
"God asked for his location and Adam told God his condition. Adam was too foolish to realise he was naked. He did what Eve asked him to do and what she told him to say. God asked Adam who told him he was naked because he knew Eve was the evil genius. That is why they are always mentioned before men: woman, female, she!"
How I missed my father. Minutes after beating the hell out of us, he would lead our evening prayers. Then he would tell me stories about Iseyin myths and legends at bedtime.
"That was why God gave men the power to subdue women. Spare the rod and you'll spoil the wife. Frequent slaps, here and there, will put her in check. One major beating every month is good for your marriage."
It was as though my father had forgotten who I was. I was no longer his son. I'd become his friend, co-conspirator and brother in the fellowship of men. As the son of my mother, I was incensed by his words. As a man, I felt empowered by them.
"But I don't have the strength I used to have. Old age and sickness has curbed my will. That is why Funmi is misbehaving. If I was younger, I would have decked her into submission. Actually, Funmi is a nice girl but her mother is a witch. Lara is corrupting my wife with bad advice. They are plotting to make Lara the Chairman of my bank. That's what happens when you let a woman into your board. She will scheme to takeover and turn your own wife against you. Nowadays if I tell Funmi to do one thing, she will perform three: my will, her will and her mother's will. I never had that problem with Mofe but Mofe never used her brain. Lara wants to kill me and take over my bank. Will you let her do that to your father?"
"No sir," I said.
"That's my boy. You will not let me down. Lara has emasculated her sons. She killed Jide and now his first son is a photographer. As soon as his father died, he left the bank and became a photographer. Is that not witchcraft? The other one is a musician, one is a filmmaker. Only Funmi has a head for business and that's because she drew close to me after her father died. If only Mofe went to school, that's the kind of woman you can trust with power. But your mother is like Isin. Beautiful to behold, the most desirable fruit I have ever seen but tastes like shit and has no economic value."
As I listened, I wished him dead. No, I wished he would never speak again. I wished him stricken with feminine health: life without dignity in an oppressed body.
"I've signed the documents. If anything happens to me, you will ensure Lara never replaces me."
---