Angst, Departures and Homecoming in On Broken Wings: An Anthology of Best Contemporary Nigerian Poetry, edited by Unoma Azuah. Reviewed by Isaac Attah Ogezi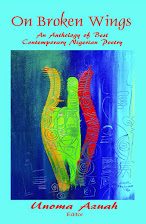 Inarguably, the single most vital point of convergence between modern Nigerian literature and Nollywood film industry is the alarming output proliferation of indifferent quality. In no genre of literature is this uncontrolled proliferation more worrisome as in poetry. Perhaps owing to the mystical comparison of the poet to a prophet, almost every published Nigerian writer has a collection of poetry or two to his chest, enough to entitle him to the hallowed and surreal toga of the poet. Indeed, the god of poetry in the country has many pen-wielding acolytes! Ironically, in a country that can boast of countless poets, it is almost an impossible task to find a definitive anthology of high merit that encompasses the majority of noted poets of any generations. Voices from the Fringe (1988) edited by Harry Garuba was the first meaningful attempt to showcase young Nigerian poets learning to cut their poetry teeth. A few of these poets, after attaining some appreciable maturation, appeared in Toyin Adewale-Gabriel-edited 25 Nigerian Poets (2000). Since then, no similar feat of any serious quality had been made until the recent anthology, On Broken Wings: An Anthology of Best Contemporary Nigerian Poetry edited by the poet and academic Unoma Azuah.
Comprising ninety-five poems by seventy-three poets, the entire anthology reads like a single long narrative poem reminiscent of Eliot's 'The Journey of the Magi.' The different narrative personae are intricately, albeit unwittingly, merged in a non-symmetrical litany of angst, departures and homecoming on this side of paradise. The all-pervasive theme of alienation runs through this work – alienation both in the personae's home and abroad. The reader cannot help but empathize with the various personae's disenchantment with what they call home.
Home is where one feels like an outsider, harassed by poverty, lives at the edge of destruction and religious violence. In his ironic 'Canticle of the Elect', Gomba through the eyes of a zealot persona, lampoons on page 35 the religious intolerance that has become the order of the day in the country:
                        So we rush in with trophies of skulls, impaled on the tall-poles of faith …
                        One truth fouls the wind: if they are wrong, They are bombed.
                        We serve the God of Smoke.
Similarly, Raji on page 19 bemoans the season of anomie that has come to be recognized as the bridge for which all nations must cross on their march to greatness. The powers that be who revel in wanton violence and debaucheries believe that for a real nation to rise, bones must break empires must vanish death must be shared only like the morning grace and life has meaning only in mass coffins and mourner's grimace… (p. 19) Raji paints a misbegotten generation where dreams of the citizenry are declared 'in a nightmare of skeletons' (p. 19), where 'compatriots write new letter-bombs/To the fatherland in guises of gospel truths' (p. 19). In such a dog-eat-dog world 'where even the dead squirm/In crammed graveyards,/Graveyards of premature departees' (p. 77, Kankara's 'Final Rites'), the personae are estranged and lost. It is indeed 'a mad world' (p. 30) of 'green-less dreams' (p. 30) as expressed by the persona in Nwosu's 'Listless' (p. 30). Here home is likened to hell on earth and as each hell unfolds, we cling to this world of void when death is the very equivalent of paradise (p. 30)             Consequently, these afflicted and traumatized personae cannot wait to bid their country farewell, a place that has nothing to offer them rather than to truncate their dreams, a fatherland that has long reneged its responsibilities to be called a childland, to use an apt coinage from the iconic Achebe. Instead of sadness at the point of departure, 'There are neither tears, nor wails/Only smiles accompany the slave' (p. 78, Fabiyi's 'There is No Sadness Here'). The departees can now afford to churlishly tell their childland, like the persona in Ehikhamenor's 'Farewell' (p. 78), 'I have said my farewell/And taken my rainbow elsewhere' (p. 78). Thus marks the raison d'être behind the mass exodus of some of the best brains to the West for better living condition. Unfortunately, the personae who have left en masse the shores of their childland to a new world, have reckoned without the loneliness, racism and alienation inherent in their new home. Upon arrival, it does not take them long to know that 'heaven does not live here' (p. 80, Azuah's 'Arrivals'). Like Eliot's Magi, the new arrivals in this new world find '… the cities hostile and the towns unfriendly.' This feeling of not belonging is very poignant in Mahmud's 'Undercover' (pp. 96-97), where the new immigrants bemoan their fugitive-like fate like the persona's in the following lines:
                        In time eternal,
                        between the webs and my prayers,
                        I lie, beneath, unknown, unwanted, undercover.' (p. 97)
                        In this wild, wild West, '…
                        we are faceless among the city lights.' (p.99, Nwakanma's 'Indigo Street')
This loneliness, coupled with the feeling of not being wanted, is exacerbated by the 'bone-marrow cold/… that only Europe can radiate' (p. 88, Ede's 'Winter Morning'). Otiono's 'Playing new tunes on my heartstrings…" on page 152 further expresses this terrible feeling of nostalgia thus:
                        Lonesome in cold nights I play new tunes on my heartstrings
                        Counting threads of by-gone years In far-flung lands…
In an obsequious bid to belong, to be accepted, there is nothing the personae-immigrants cannot do in their new world. In a rather Okot p'Bitekesque tone, Maiwada satirizes this alienation via self-denial in 'Our Soles, Pouring' (pp. 85-86) as follows:
                        Here, we swim with the whales,
                        our immigrant irises wary of hate waves,
                        Some have since washed an' toned
                        their black skins to cheat the widening nets of prejudice;
                        to cheat the ever dropping
                        label lines.
Ironically, in the midst of this rejection, the mind is stubbornly obsessed with acute longing for the home which one had fled from despite its shortcomings. While many still cringe at the prospect of returning home, 'Waiting for a homecoming that may never be' (p. 137, Kankara's 'Homecoming'), the very few who dare to brave the odds are disappointed like Eliot's Magi who returned to their 'places, these Kingdoms, /But no longer at ease here, in the old dispensation.' In Tubosun's 'Home Revisited', the returnee persona laments on page 154: No, nothing remains here but memory, shed in vile distaste. What stares back are rough remains of such random care. Known days are gone, but remain only in the head. Age recalls, recoils, in bits of a thrill too long fled. One unique quality that makes poetry tower above any other form of written art is its ability to capture minutely the rhythm and soul-beat of a generation, its fears, failures, exile, successes and joys. The images in this work may at times be privatist like Okigbo's poetry or Sylvia Plath's confessionals, yet their universalism cannot be gainsaid. It is only in poetry that the intense feeling of loss and despondency can be so well expressed like in Ogunsanya's awesome elegy, 'You Came the Night Before' (pp. 146-148). This is truly an ambitious anthology comprising most of the best contemporary Nigerian poets writing today. However, there are a few poems that should not have found their way into this work such as Awa's 'I am out in the rain' (pp. 37-38), Ogunwale's 'The Future' (pp. 51-54), Nwosu-Igbo's 'illegally Blonde' (pp.123-124) and Goodhead's 'Grandma on Lenox Road' (pp. 143-145). Where these poems are not prosaic and overly preachy, they are bereft of art. What is most annoying in one or two of the above poems is the flawed attempt at end-rhyming especially in Ogunwale's and Kankara's poems. On page 53, Ogunwale's 'The Future' reads:
                        Eagles' wings take my sins
                        Up into heavenly machines
                        Paving my road, my environment
                        Waving the decoded lessons learnt
                        Lessons of primordial decent –
                        Never changing intent –
These ill-handled end-rhymes can also be seen in the second and third lines of Kankara's 'Final Rites' on page 77, to wit: 'I would take a final bow/From my homeland – now'.
With an anthology that prides itself of being the best contemporary Nigerian poetry, one does expect the very best of each of the individual poets in the work. That is, however, not the case here. No doubt the anthology represents the works of most of the best contemporary Nigerian poets writing today but whether their works anthologized here are their best is a question that poetry scholars will have to engage in an exegesis. Credit must be given to the editor, Unoma Azuah, for the success of this impressive anthology. She herself is an important poet. Perhaps, it appears that it takes only a poet to recognize good poetry like the seminal Soyinka-edited Poems of Black Africa.
---
About the Reviewer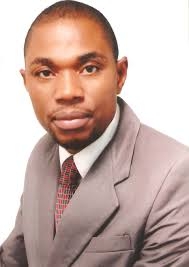 Isaac Attah Ogezi is a legal practitioner, poet, playwright, short story writer and literary essayist. He is published in Drumvoices Revue, USA (2006), Prosopisia, Vol. 1, No. 1, India (2008), www.fictionontheweb.com, www.authorme.com, www.africanwriter.com and several other national and international anthologies, online journals and dailies. His adaptation of Soyinka's The Interpreters under the title: The Misfits won a 3rd prize position at the 2006 ANA International Colloquium to mark the 20th Anniversary of Soyinka's Nobel Prize. Also, his adaptation of Achebe's Arrow of God under the title: Ezeulu came first at the 2008 ANA International Colloquium to celebrate the Golden Jubilee of Achebe's Things Fall Apart. Other awards include ANA/Esiaba Irobi Prize for Drama 2010, 2011 and 2013, AWF/Zulu Sofola Award for Drama 2009, CHD/Ford Foundation Award for Creative Writing 2010, amongst others. His published plays include: Waiting for Savon (2009), Casket of Her Dreams (2010), Under a Darkling Sky (2012) and Embrace of a Leper (2013). A fellow of UNPFA/Nollywood Scriptwriting and British Council Radiophonics programmes, he currently practises law at Keffi, Nasarawa State. In 2014 he was nominated for both the Soyinka Prize for African Literature and NLNG Prize for Nigerian Literature for his Under a Darkling Sky.