Maciva stretched alone in her double-bed. The darkness of her room made her feel comfortable. She disliked the intense light, be it natural or man-made. The light shone just to let her see the harsh moments she was hauling, living, shoeing, wearing, espousing, kissing and licking. For her, darkness had virtues: not to see, and not to be seen. She had not studied philosophy at university, but she could easily make out the philosophy of her own life–hard life. Wasn't it the bright daylight of August that brought her bad news of her sister, Thinhinan, who committed suicide without warning? Wasn't it, too, the moonlight of May that triggered off her abrupt divorce? 'You're divorced!' he had sentenced. Thrice. Maciva found it funny and bitter that she had married him in May and got divorced from him five years later in the very same month. Fortunately, the irony of fate denied all–all accomplishment as the days mismatched. The two diametrically opposed days were nine days apart. In two months, it would have been one year since her morale-defeating split. And nine months of salt-rubbing the wound of her sister's unscheduled, irreversible departure. Twin misfortunes, Maciva thought.
So, wounds ought to be different in size, deepness and acuteness. Maciva admitted to herself that her sister's death was bigger, deeper and sharper than her divorce. She knew well that there would be no cure to the stigmata left, even though unsolicited, by her big sis, Thinhinan. Instead of offering a nosegay of daisies in the upcoming May's sixth anniversary of their wedding, and as the wind of divorce shifted the direction of pollen, Maciva would disconsolately lay a wreath for her dead sister on August.
Maciva could never recover from the unforeseen parting of Thinhinan on that broiling August. It was she who had discovered the inert body of black-robed Thinhinan; a lasso around her bluish neck, bulged eyes, bloodless face, sere and creviced lips, red-coral-embossed silver earrings, uncombed black hair, shoeless slender feet flailing half a meter above the wet floor of the bathroom. The scene of the horror had been unbearable, mind-paralyzing, and body-electrocuting, beyond screaming. Maciva's first reaction when she had finally come to was to dash on toward the kitchen. She had been in a pother fishing for the damn knife. Climbing on the chair Thinhinan had used to stage suicide, Maciva cut like a mad, all sobbing, the damn beige rope which was hanging down from the ceiling. She had almost tumbled down from the chair as she held the relatively heavy cadaver of Thinhinan–do corpses gain weight? She loosened the loop, slammed Thinhinan's cheeks for a desperate resuscitation, ear-probed her chest for a more desperate, shut-down cherished heart…
At this woeful sequence, Maciva stopped living back the calamity of that second Monday of damn August.  She turned on her belly, slithering her right cheek from one extremity of the pillow to the other, always in the dimness. She would, since her sister's great loss, go through nightmares before sealing off her eyelids. It was very difficult for Maciva to surmount two three-month interspaced mishaps. Destiny had not pampered her. Not at all. Work in Algiers compelled her to live away from her diabetic mother, shacking in the high mountains. Many times Maciva had tried to convince her mother to come stay with them (she and Thinhinan), then with her, a grass widow living in a heart-rending Algerian society, deeply metamorphosed by scuzzy terrorism and crawling pauperism, whilst the country's oil was overflowing from the barrels.
As days crept by, her ex-husband Syphax became sheer anathema to her the seldom times he popped up to see their child, Juba. Syphax's leman might be strict! His compendious verdict of that damn night of mid-May was still piercing her spirit like disintegrating nails of different sizes. How after five harmonious years of marital life he made up his mind parting with her? Though she recognized that her ex had been a good divorcer. In record time, he had left her this apartment situated in the heart of Algiers, paid the due divorce costs, then went his way, lithe that his pettifogger got him things done hastily, neatly and efficiently. His rank, Maciva full knew, alas, permitted him to act up so. Who can deter him not to ? Her widowed mother? Her gone sister? If Maciva could just find out the reason of his bold decision. She would dedicate the remaining years of her lifespan to unearth the rationale, if any, of her divorce as well as of her sister's sudden death. It would not be a walk in the park, she owned to herself, before she melted into a sound sleep in the dark.
The black suitcase was still there atop the small wardrobe. The very suitcase Thinhinan had brought during her one-month training in Paris, France. What was now the guests' room had once been the two sisters' sleeping room. A strange feeling overwhelmed Maciva as she reached up to haul down the suitcase which stashed the reminiscences of Thinhinan. Maciva hoped to find out clues about her sister's abrupt suicide. She laid it open on the single bed–the other one being reserved to Juba, already in his deep, snore-ridden sleep. All Maciva could see were a dozen of books, pads, and a bunch of photos and newspapers' clippings.
The photos featured Thinhinan in different spaces and ages. One was a black-and-white photo, taken at the village's primary school under an ash tree. Another colour photo showed her with four same-aged girls in college, under the shadow of an olive tree this time. All-beaming, Thinhinan displayed with gloat the diploma which had propelled her to university. Then, galore photos at Algiers University: in front of the steely portal, coming down the large stairs, in the amphitheatre, in the library alive with buzzing students, in the university refectory, and on the concrete bench gabbing with old mates. Poor old Thinhinan! Maciva thought sorrowfully, as she lapped with her wet eyes the glossy photos of forever-lost Thinhinan. Why have you done that with yourself? It was too early a departure, no? These photos of yours are speechless and cold. You should have thought it thrice before hanging yourself with, oh my God, the rope you had tied up this suitcase when you were back from France. Hurried decisions are always injurious to the people you had so loved. You see, sister, all you bequeathed us was sorrow and sorrow and sorrow. Hills and glens have been mourning you, sister. Your fatal absence sets against our vapid presence. Your splendid body must have begun to decay by now, alas, not so far from here; I can smell the…oh, my God. Why, Thinhinan? You were born at the feet of the mighty Djurdjura Mountains, but killed yourself with your feet dangling atwirl above the indifferent floor, somewhere in the heights of Algiers. Why? 
   The books Maciva pulled out of the cursed suitcase, the last mortal one Thinhinan had ever dragged to her last rest, were dealing with the History of Algeria's 1954-1962 Liberation War against French colonialism. Maciva read the title of each book, a way of clothing her sister's unplumbed mind. Thinhinan had so dreamt of paying tribute to the anonymous women's role during that War. Not only was it the war of men, but also that of unafraid women, having peopled the Aures, Babor, Wencheris, Hoggar, and Djurdjura Mountains, without forgetting, naturally, the Heroines of towns.
The last book Maciva cast her sleep-wooing eyes on was a non-History book, bearing the French title Le Rire de Laura by Françoise Mallet-Joris. The front cover illustration was that of a black-robed woman seated on a red-backed chair. She could be in her late thirties. Had short black hair, forelock of which covered partly her eyebrows. Had pensive walnut eyes, and well-shaped nose above red-lipsticked thin lips, tightly shut above all. On the illustration Maciva could also see a half round wooden table under the right elbow of the woman. A black teapot set on a white saucer, an empty beige bowl, and an open book, were all on the table. The left hand of that woman was on the verge of turning a page, while her right knuckles propped her chin.
So, cogitative she was this mysterious woman.
The Laugh of Laura was probably a novel, Maciva thought likely. She had never heard of the author. As a matter of fact, she was not so erudite as her dead sister. What is it about? Maciva went on to read the back cover's preview. She inferred immediately, and confusingly, that her sister, Thinhinan, had ninety-nine coma ninety-nine percent read this awesome novel before committing suicide. So, this novel, apparently depicting Martin's 'missed suicide,' had brainwashed Thinhinan on the porch of suicide. But Martin had failed in the suicidary process, unlike Thinhinan.
You can't judge a book only by its own title. Could Maciva bump upon the truth she had been going in search of just by reading this 312-page novel?
Maciva broke out in a sweat as she opened the book that might have taught Thinhinan the idea of suicide. The first blank page bore a short message: Happy birthday Thinhinan. Signed: GHILAS. And, unbelievably, his email!  Maciva wondered who he was .Whoever he was, one thing became obvious to her: he had offered her sister a lethal gift that made it the last anniversary in her shortened life.
Maciva must at all costs, and there was no upper cost than the death of her sister, meet him for a Sackurian, hard talk. Had they been in love?
With these acute questions, Maciva became aware that she could not resist more to the sliding, weary eyelids. The time was past midnight. Emotional shift.
Two days after Maciva had written a message to Ghilas, that was, the first week of May, he finally showed up at her great surprise and wrote her back. He was just back from France, he had told her, making apologies for his being late and lazy in responding her. He wished to meet her near Franklin Roosevelt Street, Algiers, the coming Thursday. Why? Maciva wondered as she paced her way up along Didouche Mourad Boulevard, past glamorous shops of renowned marques, and then past the Garden of Liberty, teemed with billing and cooing couples. Her thoughts went equally to her son Juba, left to be looked after in the clothes shop where she worked, and to the man whom Thinhinan had gotten along with.
At the relatively quiet Franklin Roosevelt Street, two blue-skirted traffic policewomen played whistle and hand gestures for driving cars' sake. Maciva could smell the fragrance of her sister. No sooner had she arrived at a plane-tree-shadowed, curved sidewalk, wondering where the man was waiting her, than a tall, albescent-suited man waved at her.
   How does he recognize me? she wondered.
Ten paces separated them.
Shrunken, now, to one pace.
Close-range, Maciva could assess he was in his mid-thirties. And above all, turned out he was good-looking; traits of his face pretty harmonious with his Mediterranean complexion. Well-shaved, done probably a few hours ago.
'Good morning, madam,' he greeted her first, reached out his right hand.
'Good morning, sir,' she said softly, shaking his warm hand for two seconds.
'Pleased to meet you,' he said when he freed his hand.
'Me, too,' Maciva said.
'Just call me Ghilas, will you?' he offered.
She felt a bit confused, not knowing what to say. Gazed meanwhile at the driving-by cars.
Pulling her out from her meditation and hesitation or fear, he told her, 'Sorry to make you accept my pick of date. Well, do you know where we are exactly? Behind me is Bardo National Museum. Still, you must wonder why. Let's go in, first.'
Walking through the entrance, Maciva seemed enthralled by the luxuriantly verdant place. Greened-over areas. Wisteria, palm trees and banana trees enthused a rare impression in all-concrete Algiers. She heard of its fame, yet it was the first time she stalked in. A deucedly Moresque jewel.
Ghilas bought two visit tickets, and then asked Maciva to follow him, up three more steps. 'Here we are.'
The side walls were full of glass-in prehistoric pieces: miscellaneous stone tools, human and animal skulls, shells. But what attracted Maciva's attention most, was a sepulcher, occupying the middle of the room.
Ghilas, standing across Maciva, peered at the skeleton inside, feeling a sorrow growing inside him. 'Look, Maciva. You're beside a tomb of the Queen of Tuaregs, having ruled in the Hoggar Mountains in the fourth century. To be precise, in Abalessa, the former capital of The Hoggar. Amazing that this woman would, a long time ago, govern men in the desert, no?'
Maciva nodded.
'She was excavated,' he went on lecturing, 'in 1925 by French archaeologists. She was adorned with jewellery; seven silver bracelets on her right forearm and seven gold bracelets on her left forearm.'
Maciva felt free to ask, 'Are you an archaeologist yourself?'
He smiled shortly. 'Not at all! Actually, I'm a lawyer.'
'I bet you're a worthy guide!' she smiled back.
'Thanks for your compliments. Now, a question. Can you guess her name?'
She looked puzzled.
'You won't believe me when I tell you her name was borne by your sister.'
She kept silent for a moment, and then barely uttered, 'Thinhinan!'
'Yes. Thin-Hinan,' he rejoined, serene. 'The woman who came from afar, in targui.'
'Now I make out why you drag me here,' she said regretfully.
Ghilas turned round the tomb and came closer to her. 'It could seem daft from my side, but I wished your sister were alive among us.'
'She's well where she lies. In her native village, near her roots. Have you ever been up there, laying half a flower on her grave?'
He staggered. Shook his head. 'This next August, I will,' he promised, trying to make amends to his never being there. Afterwards, he recalled fragments of moments shared with Thinhinan.
One hour later, Ghilas and Maciva found themselves sipping some drinks in a pizzeria. Their crossed stares revealed to them that they were not, after all, strangers to each other. She was endowed with the same eyes as Thinhinan's, he thought through. Pearlescent.
'I guess,' he broke the silence, 'the Bardo made you uneasy.'
'A bit. Same names, different lives and outcomes.'
He loosened his red tie, joined his hands before his glass of Coca. 'How did you find my email?'
Maciva bent down, opened her brown leather handbag, and produced a book as she straightened back. 'Here's the answer.'
He took it up. 'Le Rire de Laura.'
'Read the inside page,' she suggested.
He did. 'Oh, yes,' he spoke up, surprised.
'Do you remember now?'
'I offered it to Thinhinan for her last year's birthday. I bought it, you know, from street book sellers.'
'Have you ever read it?' she asked seriously.
'No. Why?'
Maciva breathed out. 'It deals with suicides.' She turned woebegone.
'I'm so sorry,' he admitted belatedly.
'It won't change anything. It was the last book she read before her suicide. Found under her hanging feet. Can I ask you a question, Ghilas?'
'Yes, please.'
'Where were you when Thinhinan hanged herself?'
A silence followed.
Then he came up with a terse response: 'In France.'
Putting more pressure, she asked him: 'Before her suicide, Thinhinan had been in France, too. Have you met each other there?'
He unbuttoned the upper white shirt button as more heat rose from his chest. Anyway, he must rejoin. 'Actually, I arrived there three weeks after her arrival. We saw each other just a couple of times, though shortly. What's more, she left a week later, back to Algeria.'
Not satisfied with what he said, she pushed her boldness further. 'I let you know that she committed suicide just a few days after her comeback to the country. In other words, something she saw or happened to her there in France could have, I daresay, incited her to put an end to her life. Motives I've been tracking down for months.'
Ghilas emptied his Coca, out of Maciva's Peter Falk-style prologues. 'I told you, we'd lunched together a couple of times there. I was busy. She, too.'
'By the way, what were you doing in France?'
'A friend of family, an established lawyer, invited me for a complementary training in his private cabinet.'
'Is there something relevant, I'm unaware of, that could link it to my sister's suicide?'
'I don't know,' he stammered out.
 Lying?
She nudged him more. 'Did you love her? Having had intention to marry her?'
He was taken abreast again, feeling sweat under his shirt. 'Well, we were so intimate. Liked each other. I confess, she loved me more than I did. I don't know how to explain it to you. As to marriage, it was too premature a matter, as we had known each other barely a year.'
Maciva wished she could read through his mind to put a finger on the whole hidden truth. Not that of the legendary and mysterious Thin-Hinan. Let anthropologists decipher the kingdom of Thin-Hinan, Maciva thought. What mattered to her, was unearthing her Thinhinan's impetus for suicide. Many scientists would explore the famous ancestress of Tuaregs, whereas Maciva found herself lone in her search of cryptic tragedy. The sorrow of the stump at play.
She said desperately, 'I so hoped your valuable help. It turns out a lost case, lawyer.'
'Don't be so distressful, Maciva. Suicides can be fuelled by trivial reasons, you know. Read the newspapers and you'll come across of those banal reports of suicides. A teacher committed suicide just because fooling pupils wrote on the blackboard that he loved, wrongly, a schoolgirl! Another young man hanged himself as his father offered him a less lavish car than his brother! One young woman offed herself as she realized her menses were two days late! That's for the rank and file category, for I don't blind you with seemingly political suicides. You know, the whole country is on the brink of suicide. The hanging ropes are worn out, I imagine!'
'Tell me, Ghilas. Are you married now?'
'Not yet. I hesitate a lot.'
'I see.' She thought about her poor sister's vanished hopes.
'And you, Maciva?'
She looked down at her lap. 'Divorced, with a child.'
'I'm so sorry.'
'Oh, you aren't the culprit.'
'A long time ago?' he asked.
'A few months before Thinhinan's death, that is, last May.'
'Why did you split up?'
Maciva kept silent, the time it gathered up her forces and courage to think it over. Then, she bent upon dropping the bomb, fearlessly.  'For I wasn't a blindly obeying spouse. I saved my dignity, anyway. I don't know how to frame it to you. Well, it happened that I denied to my ex his sexual turpitudes. I'm not a floozy, am I? I denied him sodomy! Such weird things are forbidden, insane, unnatural, above all.'
Ghilas was knocked out by her forthrightness. 'You see, even divorces are so nasty.'
Maciva felt lighter, for it was the first time she laid bare the real cause of her divorce. 'I'm used to life's ups and downs. It's part of my destiny. And who knows what the future days conceal to me.'
'Be brave and fight difficulties whatsoever. From now on, I'm here to help you out, not as a lawyer but rather as a friend.'
'Thanks. Don't want to bother you.'
'No sweat about it, for the memory of Thinhinan. She left us hurt and broken. It's your absolute right to investigate the wherefores of her death. Yet, don't exhaust your energy so much, I advise you.'
'I'm strong enough. I've nothing to lose.'
Ghilas leafed through the pages of the novel. The road to death, he thought; no, the laugh to death, he had presented Thinhinan with. A funny freebie.
Maciva at last opened her eyes.
Forty-three days of comatose forlornness. One small breast had been withering in the other world, the other feeding hoggish incubi. Reality faded out to leave room to dilated deliria. Fuzzy faces she could not cast up¾nor could she understand their untied voices¾surrounded her whitish hospital bed. Handful of tubes had linked her once-extinct body from the bottles of sera. Her muscles ached to death. The lustre broke in to blind her resuscitated lacklustre eyes. Her mouth seemed having had a dryer instead of a tongue. Lungs and heart came back to life, miraculously. Sores had headquartered between her thighs. Gradually, she began to feel her seven-week hijacked body. Her skin bore remnants of efflorescence.  She shut her eyes for a moment. Her ears tried to tune to the talking people around her bed. Some undefined feelings wobbled inside her, as if she were reborn by caesarean. She reopened her eyes, still seeing blurrily, yet she noticed the walls were painted blue. Yes, she recovered her smell. She smelled an overwhelming cocktail of drugs. Drugs?  There was no comfort in the overdose-induced amnesia. But when she tilted her head left to see the countenance of a
child, she called back, in a flurry, everything.   Yes, now she remembered having overdosed herself with a couple of boxes. It was like an avalanche of stupor had roared down on her thoughts, to trigger off her trampled neurons.
'She's awakened at last,' one voice rejoiced in the room.
'Thanks God!' someone said.
'I don't believe my eyes,' another voice added.
'My prayers pay off,' a fourth voice uttered.
Then, silence shaped up in the room. Tear-burnt-out eyes feasted on the unbelievably awoken daughter, wife, mother, sister, friend.
'My poor, dear daughter,' her mother Thanina cried imploringly.
'Dear wife,' Syphax said timidly.
'Mama!' Juba said sobbingly, hugging his mother.
'Do you feel better, Maciva?' Thinhinan   was tearless, for so much she had wept during her long coma.
Maciva thought she knew the faces above her. Her eyelids bore up the strain. Her visage was astraddle of lividness. The cheekbones overhung hollowed cheeks. 'What happened to me?' she spoke for the first time with a quivering voice.
Thanina sat on the bed and stroked Maciva's head. 'We thank God you get back to life. Do you hear me, my dear daughter? I'm your mother.'
Maciva put her right hand on her mother's wrinkled cheek. 'Mother, am I alive?'
'Yes, my dear daughter. We so grieved for you.' Thanina let flow out what remained of her Erie of tears. Strong emotions crippled her style. Tense stares made up for missing words.
All of a sudden, a door hissed open, and a tall man wearing a white suit stepped in, holding eight flowers, a riot of white, red, pink, blue, orange, purple, green and yellow petals. He stood for a while just one yard from the door's frame, staring at the people huddling over Maciva's head.
They all stared back at him, wondering who he might be.
Partly, the thirst was quenched. 'Good morning, everybody. My name's Ramice.' He paused, pacing toward the hospital bed, stretching his arm to hand her the nosey of flowers he had bought from Didouche Mourad Boulevard's unique flower shop.
Maciva coughed, as if a recycled soul were being blown into her numb body. 'Ramice!' she whispered, relieved.
Thinhinan was about to leave the only chair to Ramice, but the latter thanked her not to stand up, smiling at her warmly.
'I didn't know she was in coma. Sorry for my lateness,' Ramice said to members of Maciva's family, who looked puzzled as they did not know who on earth Ramice was. His albescent wear made their thoughts go grey.
Juba was the only to feel comfy at gazing at Ramice.
But it was not the case for embarrassed Maciva's husband, Syphax. He knows my wife? He felt beleaguered by doubts.
Doubts of which momentarily dissipated when Ramice went on speaking. 'Maciva and I had studied together back in the secondary school. We used to share the same class.'
Syphax's brows frowned at unnoticed scale. Teens' days?
   The others wanted more details to be laid out before their squinting eyes and coughing throats.
Thinhinan felt strange enchantment at seeing that at last a man, strange and bold enough, dared to burst into the family's closed hearth, flower-handed.
The demure traits of Ramice seemed to hook in soft-featured Thinhinan. And she could not let out the question which darted her enhanced mind. Nor could she refrain from focusing on Ramice's ringless fingers. Fit men are dreary these times, she thought bemusedly.
Maciva raised slowly her right hand, palm reaching onto her mother's yellow-robed shoulder. 'Mother, this man beside you, is a brave man.' She paused, as she looked up at the familiar faces she had seen metamorphosed in her long comatose nightmare: cruel divorce from pervert Syphax, though in his real life was religion-bound; Thinhinan's self-hanging, which turned out to be a political murder, suicide-obfuscated; her brother's assassination by terrorists in a routine paramilitary compound's attack; Juba's missing in the dark thicket, allegedly abducted by Teryel, The Fay. In a dream, be it delightful or nightmarish, human faces change erratically. Yet, as Maciva glanced up again at Ramice, she became aware that she had not actually crossed him in her nightmare-fed coma. Ghilas was albescent-suited too. 'How are you, Ramice?' she at last asked him, off-hand.
Ramice eyed the floral bouquet he had brought her, which rested on Maciva's covered chest. He cleared his throat and said, "Fine, thanks. I'm happy that you feel heaps better. Believe me, I heard of your critical situation this very morn. And I rushed into this hospital without losing any more time, save the short time I spent by the flower shop down there."
Maciva said softly, 'Thank you so much, Ramice.'
Now, the warm yet enigmatical discussion between bed-nailed Maciva and Ramice made the eavesdropping relatives give up tagging him of smugness. For such intrusions of a foreign soul in a walled society could have been taken for an unforgivable actus reus, albeit in a visor/patient setting, in a hospital at that.
Syphax bartered definitively his incredulity for assurance. After all, he should not blame Maciva's male friends prior to their marriage. He himself would run into his old flames.
Juba remained quiet and jocund beside his flower-strewn mother. The women were on the brink of blether save the interiorly enwrapped Thinhinan.
'Do you need something, Maciva?' Ramice offered.
'No, thanks. Your visit's giving me strength to recovery. I fell shameful of my suicide attempt.' She let her fingers slide over Juba's forgotten wet hair.
'Don't say that, please. Focus on your recovery, and your sweet family. All right?'
'As you like, Ramice. By the way, what have you become? Do you happen to remember the last time I saw you?'
Ramice smiled, looked around him to probe the distracted faces.
Only Thinhinan did smile him back, ever beguiled.
Syphax muttered an excuse and the stalked out of the room, promising to come back in ten minutes.
Ramice said to Maciva, 'I scrape along by working for the good of my country. We'll have time to talk more once God heals you. I promise you.' Then he said to Thanina, 'You've given birth to a courageous daughter.'
'Thank you, my son. You're a son of a good family,' she word-rewarded him as saying.
Ramice steadied himself to leave. 'I'll visit you every day, till you check out of hospital.' He handed her his card. 'Should you need my help, just ring me up. Okay?'
'Sure. Take care of yourself, Ramice.'
Thinhinan showed him to the door.
And to the crowded hallway. They walked altogether before stopping midway from the reception desk. They spotted Syphax on his way out for September's fresh air.
Thinhinan talked first. 'Before her troubles, Maciva would talk about you. Even without knowing you, I felt you had a good heart. She told me how you helped her out during harsh moments of her life, back at her university days. And she regretted the day she walked out on you. Yet, she is happy to see you back again.'
Ramice stared at white-complexioned Thinhinan and asked grimly, 'Why did she attempt to commit suicide by overdose?'
Thinhinan's brilliant green eyes lost a single star, as she replied tearfully. 'She has been raped recto and verso in the dark street by three men. Drug dealers and addicts. The poor Maciva kept it a secret, fearing the outcome of such a revelation to her husband. I was the only to whom she spoke about this rape. Shame belaboured her chastity.'
Ramice felt pity for Maciva, his once-best friend. 'Why didn't she call the police? File a suit against three X's?'
'It wasn't simple as you might think of. Actually, she suffered weeks long. She bore up the unbearable moral and corporal burdens till… the day she threw up. That is, impregnated.'
'Good God!' Ramice uttered, hot under the white collar. 'Go on!'
Thinhinan dried her cheekbones. 'Then she aborted, underground in a private clinic, the unwritten sin. The following day she overdosed herself with antidepressants, and she fell in coma. Now, do you see through her agonizing persecutions?'
He nodded, blighted. 'Have the three rapists been identified?'
She shook her light head. 'Unfortunately, everything is being diluted, drowned in terrorism. Impunity has been raised as a noble flag.'
'Murky politics,' he stressed tersely.
'How come you learnt about her comatose hospitalization?'
A grin betrayed his sadness. 'I read it in this morn's paper.'
She put her palm on her trichion. 'Oh, yes! We had her out-of-coma published, thanking consoling people.'
'I'm glad it wasn't an obit!' he joshed.
Thinhinan could not help laughing. 'I love your jokes. Flowers! Let's have some coffee. I'd like to know you more!'
Ramice gazed at her cordially. 'How much sugar do you put in?'
'Your words!' Thinhinan punned.
About the Author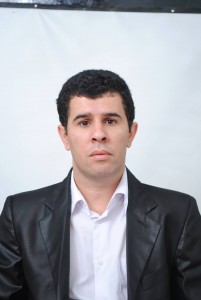 Belkacem Meghzouchene is an Algerian author (born October 18, 1979 in Aït Hamsi, Algeria.) A geneticist by training, he has published his first novel, SOPHIA IN THE WHITE CITY (Editions l'Odyssée, Algeria, 2010), a premiere in French-prone Maghrebi country. In June 2011, he won the first award of 'Prix Ali Maâchi des Jeunes Créateurs De Son Excellence le Président de la République' (Algeria), for his writings. In 2013, he published his second English novel, THE OVERCOAT OF VIRGINIA (Edilivre, France) and poetry collection, RAFFLESIA (Edilivre, France). He's married with one daughter, and lives in Algeria. He loves his country and family, and he advocates for a world devoid of nukes and weapons, to wit, gotten rid of wars and whores.