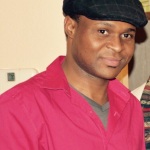 Dexter Zvicha is a fiction writer and political nerd. He is an MA and MPA graduate of the University of Delaware. He is interested in exploring the wild, grotesque and beautiful through poetry and short fiction. You can see more of his work on his blog thelitepassenger.wordpress.com or follow him on Twitter @LitePassenger.
---
                                                             Chronicle Wars 
The young brother sitting next to me nodded, flipped and tranced. He also kicked. The kicks followed the pastor's reverberating hallelujah chant. Some of the kicks creased my shin. Yes, I felt some pain. I wanted to kick back but the calmness of the church and the dignified look on the faces of the bodies around the hall made retaliation difficult. It was church not a boxing ring; there was no kick for kick. I belched and relaxed. The brother nodded and shouted. He felt the word and the Pastor. I felt the buzz and the bladder crying for relief and mercy. In front was a teenage girl crying. An old man spotting a long beard and dressed in an oversized grey suit sat next to her. He rubbed her back and reassured her that everything was going to be fine; she was in the right place. She had sinned and regretted it. The old man must have been her father. A middle-aged woman sat next to them, fish-eyed. Was she the mother or the sister? Maybe she was her stepmom. Her stolid face was a sign. She felt the chronicles sermon too, she was touched. I felt the chronicles too. The crowd was animated. It chanted, cried and banged on the wooden benches. It was humbling. Homs felt it too. He felt Jackie. She was sitting in front, waiting for Tinashe, her Pastor husband.
Homs had insisted that we be there. It was his lone chance. She had rebuffed all his advances. He tried smart, there was flashy too and then came magnanimous. It all added up to nothing. He needed something fresh. Something more appealing and this was it. We knew that accepting the invitation to the night sermon was not smart but we did it. He was nervous, I was nervous too. I am not sure why I was nervous. It was not my affair. But I knew that there was only one way to calm the nerves. There were many ways but we knew one way, which was to drink until one felt nothing.
We were to attend the Wednesday night session. Wednesday was drinking day too. The flyer said that the pastor was going to preach about the chronicle wars. It was a perfect trifecta; beer, Jackie and war. Life was war; maybe this was a chance of channeling our inner Tshaka or Sun Tzu out.
I met Homs at the dusty high school soccer pitch. He was neatly clad in an old green Liverpool soccer shirt with a Carlsberg logo and some blue basketball shorts. The Carlsberg logo was fitting for his pastime- getting inebriated. I am also sure the shirt came from mabhero eku Siyaso. A lucky bargain had made him score some really smooth soccer cleats and socks too. He was not that much of a good soccer player but claimed to be a great defensive midfielder. They never gave him the chance to play even though it was just a practice session. The revered coaching staff sat him out every match and he would talk about how good he was and complain about how wrong everybody was about his talents. I had known him for more than a decade and I could not substantiate that claim. Anyway, I had no interest in the sport, which made me a terrible judge of his supposed talents.
There was no need for him to change into pants and a more formal shirt. Mukundwa Bar was not known for its class and dress code. We walked out with Homs dressed in his fancy soccer outfit. All the way, he was protesting chifesi in the team.
"It's everywhere even in the little boozers' teams," he complained.
"It's not like your obsession with a married woman is honorable too." I tried to open his eyes to the possibility that we were all part of it. We were corrupt somehow. Just that some of us didn't know it. Blaming others did not make us saints. I reminded him of his limited soccer talents as we edged closer to the bar, which was not more than a mile away from the soccer stadium. It was conveniently placed. After every game, we all walked to the bar for one or two. I often waited for him to give up on getting the chance to play, which he always did. The plan was to get one or two but we ended up drinking until we forgot our names, totems and always revisited the burning Jackie question and the corrupt boozers' team.
This Wednesday was special, so I bought the first round. Since we were going to Jackie's church, we needed to at least smell of Castles rather than Chibuku. It all smelt bad anyhow but we decided against masese. We went all the way for Castle lagers. We had a small pocket bible, but it did not have the Chronicles, only Proverbs, Psalms and the New Testament. It was a waste. We wanted to prepare for the sermon but had the wrong book.
"Do you think this is enough? I just have to read this," asked a nervous Homs pointing to the verse on the flyer that Jackie had given him a week before.
"I seriously don't know. But the more you drink the better or worse you are going to be able to handle this."
Homs lifted his beer, took a good sip and opened his mouth. "You are not helping," he protested.
I was no expert in the art of courting. He was right. I was not helping. "I am, I just think you should but also shouldn't be drinking." Whatever advice I was going to give him, I wanted it to be as vague as it could ever be.
"That makes no sense," said Homs catching my bullshit and his voice changing from that of fear to anger. I had to be careful with my words. He was on the edge.
"Trust me it does," I answered.
"Do you think the guys will be angry at us?" Homs tried to wash up the nerves by changing the conversation. I never knew how he felt inside.
"What guys?" I nonchalantly asked.
"Our friends we left at the soccer field."
"Why would they, they couldn't let you play even for a minute. Can't let them drink. They always show up after the game talking about how sore they are and you buy them drinks, expecting to play tomorrow and you never do. You are a terrible briber."
"We are not like them," he exclaimed.  He was right. We were not like them. Whatever talent we had, had been morphed into drink and smoke.
I was envious but also elated at Homs' prospect of finally getting something out of his hopeless Jackie project. He had always been a tortured soul and his torment reached a breaking point when he conjured up this idea of making Jackie his wife, an idea that came up random and strange. Who could blame him when the whole nation was acting strange? People called this kind of behavior growing up. I saw a ball of rage yearning to burst out and consume everything.
Jackie was not a goddess—at least to me—but she was intelligent, beautiful, and eccentric. Her modest god-loving castle had cultivated a well-bred and mannered young woman who had blossomed to the point of making even Homs, a bumbling drunk droll and confused hack, fall for her. Her dressing was modest and in more vain terms dignified. The worst part was that she was married and her clean Pastor husband always graced our offices and picked her up, which incensed Homs. At work there was never any complaint. Everything she did was all to perfection. She was only twenty-two.
I am not sure how Homs ended up with the idea that he had to court Jackie. We all knew about the tales of the beauty and the beast, Shrek and Princess Fiona. We were not in Disneyland? Maybe he was getting too much of Disney. Despite his college education, Homs remained a picaroon, a rogue, debauched drunk from the ghetto. I remember one Sunday morning while we were celebrating being the first patrons to open the bar; he started talking about making changes. He had found something new, something worth the hustle. That something was Jackie Masango, a married colleague at the regional offices of the Ministry of Labor where we worked. She had shown him the light.
"She understands me," he slurred.
I thought it was utter madness. The beer was taking over his senses. So many people were losing it too. The bad economy had turned decent hardworking men into neurotics, potheads and drunks.
"How, when you never talk to her and she doesn't talk to you?" I asked.
"I know, you just don't get it." He was digging into his pocket for something.  "There is something between me and her more special than you harebrained hacks could understand," he continued.
He was right. I did not get it. There was a lot I did not get. Like why politicians were fat and ugly or why all pastors were elegantly dressed philanderers. "You must be some sangoma then," I added.
"I might be. I can feel it," he said as he rose up and made his way to the jukebox. An old machine that was still taking Zimbabwe dollar coins despite the fact that the local currency was now worthless.
"You are better off arresting those feelings. This is nonsense, just drink and spare us the bullshit." I told him as he was sitting down and waiting for the song to play.
"You will see it will happen…." His voice got drowned in the booming sound of the jukebox.
As we were adjusting to the new sound of the jukebox, I thought about how much Homs' Jackie woes had provided the much needed entertainment and relief for our depraved existence. Since we could not talk about water, electricity, the government, the police, garbage on the side of the street, the president, his age, his wife, his cats and his Chihuahuas; we sat at the bar and talked about Jackie, her smile, her preference for the color green, her long dresses and skirts, her husband, his white second-hand Corolla, his shiny suits, his shiny shoes, his never-ending smile.
"Are we doomed or just pathetic?" I asked Homs.
"Why?" He grinned.
"We are obsessed with the Pastor's wife." I reminded him.
He hated it when someone brought up the fact that she was married. "She is not his wife."
"You better accept it than act like it is not written in stone."
"She is single to me." I let him indulge in this self-deception. I was not going to stop him.
We bought more beers. We couldn't stop at one. The beer was cold and the music was good. Homs closed the Gideon International pocket bible and stopped reading. The jukebox was now playing Solomon Skuza's You Don't Love Me Anymore and Homs was shaking his head to it and singing along:
"Last night I tried to dial your number…
There is no need to say, you don't love me anymore…"
We had two more rounds of the 750ml beer and a good round of old school music. I stood up and tried to dance to Chibadura's $5000 Kuroora:
"Sara hako ugarike…
uroorwe nevakapfuma…"
"We don't need to go. The music here is good and your type of girls will be here in a few." I tried to get him to forget about his Wednesday sermon date with the Pastor's wife.
"We are going and you call those pea brained women my type?" He was adamant.
"What if the pastor is the one preaching?" I asked.
"The better are my chances."
I lost count of how much we drank but remember the short walk to the church. The church, the bar and the soccer field were strangely situated close to each other. People thought it was outrageous to have a bar close to such a big Pentecostal church. The church was built with colonial bricks, always clean and quiet except for Sundays. The bar was filthy. Somehow the putrid smell of uncollected garbage behind the bar, the vomit, and the stench of urine never reached the walls of the church and the noses of the congregation. It was a miracle. The bar was old and I always got scared every time I went inside. That fear was immediately gone the moment I got my first beer. We all liked the convenient location of the church and the bar. It was there for a reason.
It was eight-thirty and we were late. We wanted to sit as close to Jackie as possible. She was sitting in front with a bunch of other good-looking girls. The front was a bad idea. Tinashe was going to use us as an example of god's grace. We had nothing against grace but we had everything against getting paraded in front of the church. We walked in to the sound of the animated pastor's preaching. It was Tinashe, Jackie's husband on the pulpit. He looked clean, as usual. He had lost the smile that was always planted on his face and replaced it with some rage and pain.
"… and ten thousand people died," he shouted. "Hallelujah."
"Hemeni," responded the church.
"Brother Mafara give us the next verse." A gentleman in a faded-blue shirt and red tie rose, rubbed his face and started reading. He held the bible with open palms.
"The verse Pastor?" asked Mafara.
"2 Chronicles 12, we are continuing with the same Chapter," replied a sweating Tinashe.
"Verse twelve," rambled the voice of brother Mafara, "And other ten thousand reft— left ahhh alive did the children of Judah carry away captive, and brought them unto the top of the rock, and cast them down from the top of the rock, that they all were broken in pieces." He closed his palms and sat down.
"The Lord will smite those who go against his word," boomed Tinashe's voice. "If you are not righteous the Lord will cast you down from the top of the rock. I can see your pain, your anger, your misery. Your anger does not match the Lord's wrath. You will all perish. Do you want to die like these unbelievers?" He was now shaking his head and tears were streaming down his face.
The Pastor's face changed from tears and anguish to a broad smile and then to some deep sadness. How did he manage to do that? Changing faces and moods like flipping through Hollywood reality picture shows. Every face affected the shouts and reaction of the crowd. He easily switched between English– the tough KJV English, to Shona proverbs, a few words of Ndebele and some unintelligible shouting. I suspected that he was speaking in tongues. He never lost the crowd in all this. I remember that all my life, I tried the anger face and failed. There was no way to perfect it. But Tinashe was truly a genius. I wanted all he ate, drank, and snuffed.
With every verse of 2 Chronicles 25 read, my seventeen-year-old friend sitting next to me kicked me more. He jumped when Tinashe read about the ten thousand men thrown off the cliff by Judah and the 3000 slaughtered. People died and the crowd became more animated and energized. I wanted some of that energy. My weak bladder and my drunkenness made milking of the energy difficult. I wanted to kick and punch something, even the air but my hand remained clenched and hoisted to my knees. The kid kept kicking my shin. He kicked harder. I wanted to punch him in the face, the right eye to be precise. I saw flashes of blood spurting from his smoker lips. I needed to stop violent thoughts and concentrate on the word. Deep in my conflicted thoughts, I heard a whisper coming from my right ear.
"Too many people are dying." It was Homs whispering.
"Huh?"
"This is too much," he continued.
"Shhhh," someone in the crowd said. It was the father of the crying teen girl.
"Calm down Homs," I said.
"This is incredible" Homs was unstoppable.
"No, you are being ridiculous," I warned him.
There was another shout from the pastor about death in Amaziah's land. Homs was losing it. He was on the edge. I knew he was going to do it. I was scared. He was ruining it.
The pastor continued and the crowd cheered. A woman started shaking and confessing. Two strong guys in dark suits grabbed her each by the arm and dragged her along with them probably to the prayer chamber. I suspected it was her demon acting out. She was a beautiful woman. Even the darkness and dim light confessed it. I wanted to help with the dragging and take her to the prayer chamber and help cast the demon away. The lack of a dark suit, my weak drunk skinny stature made that only but a dream. The shaking and limping made her much fuller and attractive. I wanted to shout to the two men in dark suits to leave her and give me a chance to do it.
The demonic woman's intermission ended and was replaced by more verses from the Chronicles. Homs was now rocking in his seat. Maybe he was now feeling the chronicles. My bladder was failing me. I needed to find the restroom. I stood up, stepped on a couple of feet on my way out of the benches. My victims kindly accepted my apologies for stomping their feet. The Men's bathroom was close to the huge exit door. I made a slow feet-dragging run and managed to reach the urinary before losing everything in my pants. The clean bathroom smelled of Clorox, germicidal cleaner and a strange wood smell. It was nice. I had forgotten that not all bathrooms smelt like the one at the Mukundwa Bar, which smelt of funky phenolic Chibuku aroma, piss and sweat mixed with cheap cologne.
As I emerged out of the restroom, the demonic woman was standing outside the women's bathroom. Her hands covered her face. She was crying.
"Are you ok?" I found myself asking. It was obvious she was not ok. She was crying. Not a smart question, I thought.
There was no answer. I moved closer. "Hey" There was no response.
"He didn't have to do that," she said as I was about to walk away and enter the sermon hall. I walked back.
"Sorry, who?" I asked.
She removed her hands, rubbed her eyes and looked me straight in the eyes. "He didn't have to," she said trying to draw the tears back.
"Who is he?" I feigned interest in her troubles. I was just glad at getting the chance to talk.
"Doesn't matter. Can you get me out of here?" she said with a blank face and without flinching.
"What?"
"You heard me. You will take me out of here?"
"I can't promise anything. I barely know you."
"Please!"
"Why would I do that?" She did not reply. She just stared at me. "Ok, I will take you but I can't leave now," I found myself saying.  Who wouldn't have taken her wherever she wanted going? What other meaningful thing did I have planned? I had no answers to those questions.
"I will wait."
"I will be seated at the back," she exclaimed as she stormed into the hall, leaving me flushed and confused.
The sermon was still going on when I got back to my seat. I slowly turned my head to the back and there she was, beautiful, sad and crying, waiting for me. Who was she and where was I taking her? Who was she talking about? A sudden loud laugh filled the room and took me out of my reverie.
Homs rocked and the boy kicked.
There was some gasp and silence. He had done it. Homs was laughing uncontrollably. He stood up, stamped his feet and went down to the ground. Tears were streaming down his face. I sat there and watched. The laughter sounded more like a cry. I knew that laugh. I couldn't hold it myself. I let go off my own laugh. The sermon had taken a toll on him and his emotions and I found myself sharing in his amusement at the battles of the chronicles.
I felt a rough blow on my cheek. It took me straight to the ground. The seventeen-year-old kid who had been creasing my shin the whole night stood over me. He gave me a hard kick in the stomach. It rocked my bowls. He must have been wearing those popular Weinbrenner boots that high school kids wore all the time. I moaned and cried. The two dark-suited men got hold of Homs. He was wailing. I heard prayers and shouting. The kid kept on kicking and telling something to come out of me. I tried to say something but nothing came out. Blood came out. He stopped and next to him stood Tinashe, the Pastor with a handkerchief in hand. The dark-suited men dragged Homs to the exit door. He was still laughing despite the punches and the strong grip from the men.
They came back and dragged me out like an old sack of potatoes. By now my left eye was swollen and I could barely see. I gave a last glance to the woman as they dragged me along. I knew by now she wanted nothing to do with me, especially after the beat down by the Weinbrenner kid. They dropped me outside and walked back in.
Even though it was dark, there was a cool breeze outside. Homs sat on the hard concrete steps laughing and crying. I limped over and sat next to him.
"Can we go now?" asked a voice from the church entrance. It was the woman again.
"He got you too. He always gets away with it," she added.
"Who?"
"Tinashe," she said with a visible angry face in the dark.
I had no desire to ask her what else he got away with. The church doors were closed but Tinashe's voice kept on echoing. He was everywhere. We couldn't even sit outside his church. We had failed at the chronicle wars. I had no idea how I was going to do it but I had to take this woman home, wherever home was. Surely chivalry was not dead. There was now a flash of life in her eyes. Maybe it was the realization that she was not the only one suffering. There was life written on Homs's face too. The beating and casting away of spirits had done wonders to both of them.