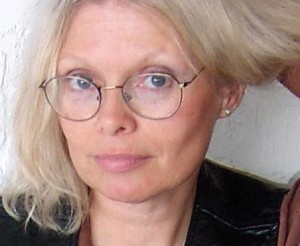 Diane Dehler is an American poet known for her postmodern lyricism who has been nominated for a Pushcart Award 2014. She received a degree from the Creative Writing Program at San Francisco State University, receiving the Outstanding Student of the Year Award. She is an English Language poet in the international literary scene. Most recently she has published in: From the Four Chambered Heart: In tribute to Anais Nin, Rose Red Review, poeticdiversity, Skylark: an English-Language Tanka Journal, Moonbathing: a journal of women's tanka, Contemporary Literary Horizon, Pirene's Fountain, The Criterion: an international Journal in English and The Taj Mahal Review. She is also known for her flower photography, especially her studies of the lotus, orchid and chrysanthemum. Her blog Princess Haiku has received 200,000 + views and she can be found on Facebook.
---
In a sea of white anemones
I was swimming in a sea
of white anemones,
Whose ivory foam surrounded
me with the tenderness-
gentle hours of a lover.
The frothing ivory interior
of the flower was a white eye.
A perception from which
arose Aphrodite awakening
from the perfume of Alegria.
Leopard
rises straight high
a spirit wind, winged
beast awakened
instinct.
Poised on a cliff's
steep jutting edge
with sharp claws
as pink as dawn.
Embodied writing, the
pale of me and your
molten leopard flesh.
Hot breath of all desire
splattered with pattern
Of wild rosettes.
A stealthy approach
sly leopard licks salt
of my flesh, feeding
On my sheer wild
nakedness — bleeding
creation all over me.
Solitude of a leopard
joins passion.
Before the Winter Eclipse
Pull the washtub into the snowy yard to collect light
Leave a snow angel on the ground in preparation
Pull hair into elegant chignon with metallic silver comb
Fetch Helene's Mont Blanc Pen filled with spirit ink
Open a bottle of cranberry fizzy and fill the ceramic tub
Dip into icy memories of long, long ago
Write the first ten pages of a new prose novel in silence
Just wait, just wait, just wait until the first spill of new light…
tanka
she slept within
petals of a
fragrance that held
her as close as eternity
so gentle this cloud
tanka
today I am a
white butterfly in
rain flying here and
there – seeking nectar
Sophia's wisdom
haiku
all night our breath
watching petals fall from this gold creature
chrysanthemum!
Secret Text
I was browsing through my favorite used bookstore.
To my delight I found a 1955 copy of
"The Selected Poems of Frederico Garcia Lorca."
Inside the book was a faded slip of paper perhaps
used as a bookmark. On it were written these words
which I have embraced as a secret text for all of us.
"…ourselves before and ourselves after.
This assures anonymity. While we can talk with each
other and feel each other, we cannot identify each other.
Thus you will never be able to be entirely sure that each
person you meet for the rest of your life, has not
participated in the Lorcian with you."