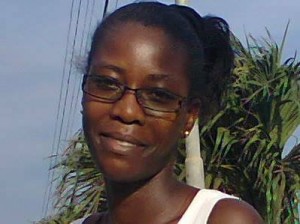 Aisha Nelson (aka Sheilla Aishetu Nelson), is a Ghanaian writer who currently teaches English Language and Literature at the Alpha Beta Christian College, a CIE curriculum school in Accra, Ghana. Several of her works have been published, featured, and performed in various outlets. A few of these outlets include two weekend news-magazines in Ghana, The Mirror and The Weekend Globe, and more recently, OneGhanaOneVoice (OGOV) and the Kalahari Review.  She has also performed at various academic, literary and religious functions, and on radio.  She has also written and directed a few Christian plays and is now working on a novel.
---
Times Turn.
When little pig asks mother pig about her huge
nose, it means no spite.
When mother pig tells little pig to wait to grow to know
why, it must mean no curse.
So when I tell you, stranger dear, that there's such
a thing as sugar because there's such
a thing as salt, deem me no prophet of doom!
That time when the flood from your eyes will rush DOWN to fill
UP the valley beneath your hot runny nose,
and your flailing hands pause to frantically smear that mess of
slime and brine on your fine face, remember that you passed this
way once, dreaming and beaming, bubbling and bursting
with joys without ready reasons. Remember that I chanced
upon the prime of your smile-
Oh how your smile lighted my disheveled face!
and you were surprised- almost annoyed- that I
poked my dirty steaming nose into your happy business.
Don't forget, stranger dear,
…when that day comes, that I left behind a
goodly gift for your future grief: a pinch of salt
in a pouch of prayer knotted at the tip of a handkerchief-
in wait for that day you must pass this way again, and you
find too late that salt too failed you on that day of your
grave hunger for sugar.
…in case you find no one- not even an ant- to even
annoy you with another runny nose, and you finally find that
they did not lie when they said
The world is round and has its night!
Beyond Sweet
Money Sweet they say
always they say
They say Poverty Preaches Love
always they say
and in saying these and more
they undermine, undervalue
mi calling your Sweet
they undo, mock
mi calling you Love
but mi Love you
always will be
and mi Love you.
always will.
but about Sweet, we-e-el-l…?
maybe mi can call you
Sweet
'cos
sweet is sugar
sweet is money
but sweeter and thicker and healthier and more…
is
you
mi HOney!
Consummation
the barrier
falls flat
still and stale 
 
the wall
grinds into clots
of grit and water
just by a drizzle
                not rain  
the bud
flaunts its secrets
of spikes and flesh
due to a tickle
              of dew  
blood-frothed throbs of passion
scent-strung beads of sweat  
And behold
you are not ashamed
             not impregnable 
But stand naked
                  vulnerable
in love