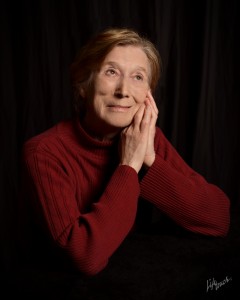 Allegra Silberstein grew up on a farm in Wisconsin but has lived in California since 1963.  Her love of poetry began as a child when her mother would recite poems as she worked.  In addition to three chapbooks of poetry, she has over a hundred publications and a growing number on-line. In, March of 2010, Allegra became the first Poet Laureate for the city of Davis.  Other activities include being a member the Threshold Choir of Davis, dancing with the Third Stage dance company, and recently she has been singing and plays washboard with the Front Porch Bluegrass group.
---
Evening Hymn
(after e.e. Cummings)
I thank you, God,
for the now cool touch of night
brushing against my cheeks
after the heat of the afternoon,
for the naming of stars gleaming above me,
for the dark lace of olive and pine edging
the moonlit sky of this summer night,
for the tender animal that is my body
harking to the high trill of crickets
singing beside the red shed
where a grape vine clings.
Leaves cover its treasure:
pendulous green opals.
Blood Moon
A blood moon climbs into October night
perhaps it shines on wild birds in their flight,
and gives a warning too, of winter cold.
an omen rising, bending awe to fright.
Who walks this earth with voice and heart so bold
who has not heard the fireside stories told
of flowers so red that haunt our winter bed,
of loss that comes from raiders of the fold.
Yet prudent folk with thought of times ahead
will face this fear and over-power dread,
will light a candle in the deepening night
and turn their thoughts to blossom-time instead.
Let us treasure then this wondrous sight,
this moon so lustrous with its orange light
that we by blood-moon magic will be led,
into a winter bed of green and white.
Notes from a Wooden Flute
A rustle of song
in the whispering pines.
Fountains overflow.
Echoes
reverberate in my ribs,
touch psoas and thigh.
Pentatonic scale
infinitely various
weaves about the heart.
I leave
the loneliness of words
—into night—
and a solace of  stars.
Looking up, something
inside me widens: breath expands—
space unfathomed.
For a few moments
I am held
by an unfathered universe
spell-caught
in the high call of an owl.
Into night
You walk with grace into a gaunt darkness
where fireflies stream as if from outer space.
They calm the inner wars, the dragging stress
that pulls your sagging shoulders to a place
of such release that you could almost be
a penitent bowed down before a saint,
your head at rest, in prayer, on one bent knee.
But peace may leave and heart may yet grow faint
and should you cry out in the shadowed night
for sustenance and strength to go your way
for wings to wrest you from your sorry plight
and circling arms the cold of fear to stay,
then may the moon's sweet fullness bless you
our lunar sister's light caress you.