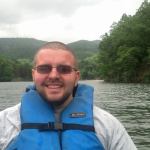 Matt Prater is a poet and writer from Saltville, VA (US). His work has appeared in journals throughout his native Appalachia, including in Appalachian Heritage, Appalachian Journal, drafthorse, Floyd County Moonshine, The Hollins Critic, James Dickey Review, Kudzu, Motif, Now & Then, The Pikeville Review, Revolution John, Still: The Journal, and Town Creek Poetry, among other publications. Winner of the James Still Prize for Short Story and the George Scarbrough Prize for Poetry, he has taught at universities throughout the region, including at Appalachian State, Bluefield College, Emory & Henry College, and King University. He is currently an MFA candidate in poetry at Virginia Tech.
---
Responding to Her Wish to Leave Philadelphia, 1892
If I go on with you to settle
among limestone boulders the wind hollows
I'll be hard as the spare grass of cattle,
if I go.
But if, on some evenings, when the flow
of the nearby river is shaded by locust and nettle,
you allow me to watch the slow
dip of all your body's o's into the metal-
colored, coffee colored water,
I may grow used to Mason jars and iron kettles,
if I go.
The Things Of The World Are Opening Around Us
Beginning from any little epaulet or hovel
the architect builds her room. Design me a kitchen
based around this faucet, someone says.
So she does it. She can do it easily.
Or say it's Van Gogh in Kurosawa's Dreams:
if you cannot find in the fine things of a hay bale
all the meaning you could need here
in this world, you haven't known beauty.
Nobody's crazy if you follow the money.
But ask yourself this: what did Luke the Drifter
say about trusting disreputable appearances?
There was wisdom in that. There still is.
When Spring has just announced itself
and peeper frogs are warbling in snowmelt,
if you go outside then, barefoot before
May 10th, usually nothing happens.
More interesting is the way the world works
on days nothing begins for us, and nothing dies.
Remember now what Sanglug said: the funniest joke
comes from the tedium of meditation.
These Various Inhabitations
If I were some elegant riding horse with a polished mane
who was kept by some young woman who made me
the symbol of some sexy guy or girl she couldn't find;
or if I were the sheen on the purple corner of a shell,
or the black crunchy bit on that same shell's fried oyster,
or if I were the wind with hints of saltwater and seagull scat,
wouldn't it be nice inhabiting and knowing
and being one with all natural things?
To know the black spackle of fish the way I know
these nouns lain colored on the page, inhabiting the shape
and nounness of all things under the sun: landscapes
with suissant of early flowers, kaleidoscope-like, with the flotsam
and the phlegm and all their ephemeral driftwood.
Spirit of Marianne Moore, teach me the precision of painters and pitchers!
Spirit of Lucille Clifton, humanize in me the atmosphere!
Spirit of Joey Ramone, hide in me that not so hidden
moral loving general wholesomeness that made you scream.
Most dogs; old people whose restaurants
served organ meat before it became trendy; young women
with henna tattoos and green and purple shawls,
who had cool breezes jolted in their heads
by the likes of Judith Butler
and a thrift store vinyl of Judee Sill;
if I were any of these things as I were myself,
how lovely would I be in that, and how lovely
are all of us, and my current self, still.
Proposal
I would kiss you on a graffitied bus.
I would kiss you with unmitigating lust.
I'd eat lunch with you uncomplaining
in a restaurant with a bad health rating.
And I would write you doggerel
as if I were a mongrel, if we
could touch the terror of true love.
And yet Tristan and Isolde?
Contemplate it. It's revolting.
Give us rather the cathode grace
of sitcom arbitrations. I'm happy
to take the standard roles:
me putzy, you loquacious.
You can cook the omelets
and I can wash the dishes, and
we can both deny the weight
of outstanding ambitions.