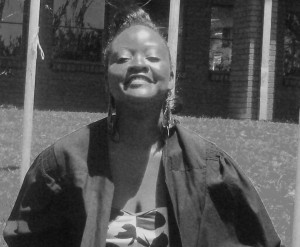 Mavara is a woman born on 9 January 1992. She is studying Marketing at Africa University in Mutare Zimbabwe. Mavara loves to write and design. She also enjoys music and is a member of the Africa University choir. She is the last child in a family of four children. Her poems are inspired by the diversity she has experienced in college.
---
The Old Young Man
The old young man
Long feet, long face
Too tired to work yet
Restless all day long
This morning on the
Street fight, he stretched his long
Giraffe legs to see and spent the
Whole day crying,
"Abomination, abomination!"
Seven yellow teeth,
He chewed mouth wide
Laughing at the foolishness
Of his grandchildren,
"Folly, folly!"
Rough skin, chuffed skin,
They laughed at his restless insanity,
His legs too long, his life too short,
"No difference papa. No difference."
Too weak and hands crossed,
Crossed inside, forgetting
That yesterday was his day to spite,
We bid our fair wells to the young old man,
Forever papa.
My Sister's Garment
 
My sister's garment we wore!
Many colors no co-ordination,
Images that screamed on my body.
My sister's garment black strips,
My sister's garment maroon, yellow
Colors among a tone,
Designs that made the child see
Masquerades, demons to the
Residing priest.
But in my sister's garment
We danced haphazard,
The last of aspiring warriors.
To the colors we sang voices
High pitched, discord to the
Newly found organ.
What has become of us?
My sister's garment
What has become of us?
An ugly piece, loved  from
The very start.
A natural that has brought
Chaos to the blocks white
And black.
My sister's garment
Mysteriously beautiful.
The Burning Flame
 
When we sang like monkeys
We leapt for joy.
Like baboons we leapt and leapt
For the man we despised,
Wisdom flowing from and through
His lips, words that meant nonsense
To my mother.
Hands waved in quotations we leapt and leapt.
Smiles never saying the truth
Our lies being sincere, we
Hurdled like small baboons and like
Monkeys we leapt and leapt.
Yesterday we hailed praises
To a flame that burnt my mother,
Our pink behinds to a hell that is
Now flooding.
What they wanted brought light
Which burnt deep waters.
That which we monkeyed for
Burning out to damp ashes.
But today and yesterday have been
Paining, a light preferred darkness.
Maybe tomorrow a dying flame
And if so my mother's joy,
A mild light, a preferred flame.
Wire less
 
When paper is disappearing into wire,
Ink,
Our hand writings mysteriously
Becoming the same.
When we did not fret,
We stole from the soft writings
And printed them ours,
The professor worried,
The heritage is lost.
Even wire has become less,
My life to no effort and less.
The speed of life we cannot touch
Soft copies, is hard ever coming
Back?
The Language
To the learning of
The language, the barking
Dog laughed, the three year
Old mumbled as we spoke
Through the nose,
Naff, neff, niff.
0neth, twoth, threeth, twenty-oneth,
Thirty-twoth,
The teacher pulled our
Ears to the learning
Of the ABCs,
To make me hear my
Brother from the other African
Mother but a disgrace to my
Mother's tongue a e i o u.
Our lives dependent
Even to the breaking of
The language forty-threeth,
We thoughted,
Spoked, and wroted to
The learning of figures,
To the learning of science
To bring us to the rest of
The world and beyond
Welcome twenty oneth century.