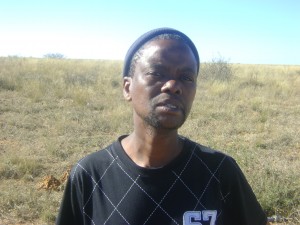 Kagiso 'Dubla' Senthufhe, esq., is a social researcher, freelance and creative-story writer based in the sleepy village of Metsimotlhabe in the outskirts of his hometown of Gaborone, the capital of Botswana. He graduated from the University of Botswana ('UB-Basco') with a BA degree in Sociology and Public Administration, in 1991, before spending a further two years of graduate studies, in Sociology, at the UCT, in 1996/7. His current reading and writing interests cover the widest possible range of disciplinary areas and literary genres, including, but not limited to, history, ethnography, modern urban micro-sociological studies, contemporary journalese and reportage, popular fiction, memoirs, travelogues, life history, to mention but a few.
---
Daniel
Henning Mankell
Vintage Books, London, 2000
Translated from the Swedish by Steven T. Murray (©2010)
ISBN 9780099563662
pp. 337
9.95 Euro (Recommended local price – circa P120)
Reviewed by Kagiso Senthufhe
This is what puzzles me.
In the Epilogue to his book, Swedish writer Henning Mankell, otherwise better known in his homeland for his crime writing, recalls a journey which he undertook through the Kalahari Desert in a Jeep in 1995. He was travelling from Francistown, through the dusty and sand-filled western town of Ghanzi, and onwards, across the border, to Windhoek in Namibia. The purpose of his visit to the region was to enable him to pore through German colonial archives in the capital of independent Namibia while looking for any records or references relating to some of the key protagonists in the book Daniel. In particular, he was looking for records relating to the San/Hottentot boy protagonist, Daniel; his adopted Swedish father Hans Bengler; and another Swedish pioneer and trader in the 1870s German South West Africa, Wilhem Andersson.
Yet, in spite of this act of seemingly real historical research, Mankell writes in the Afterword that the book is actually a novel, or a work of fiction, and as such "the events and characters depicted in [it] … have no direct models in real life"; at the same time, he also reminds the reader that the "task of the novel is to portray what might have happened" rather than "what actually happened".
While his own foray into the Kalahari Desert seems to have borne relatively little fruit in terms of its stated objectives, Mankell, interestingly, also recalls a strange and chance encounter with a group of San nomads whom he met during a brief stop on his way to the Namibian capital. Some thirty-one or so San men, women and children had suddenly appeared on the flat and barren landscape of the Kalahari, walking up to him in a single file and finally seating themselves around the Jeep like people engaged in some religious rite (p. 334).
Since one of the group, "a skinny old man who had grey hair and bow legs" (p. 335), could speak English, and could thus act as an interpreter between Mankell and the rest of the group, he asked them if they would have the time to pause awhile and hear him tell them the story of Daniel, a San/Hottentot slave boy whose parents and relatives had been murdered in cold blood by a group of German colonists who raided and attacked their camp in the desert some 120 years ago, while he, Daniel, escaped the carnage by hiding behind a rock. Following this incident, the boy had been picked up by the Swedish settler and merchant Andersson during one of his hunting expeditions into the desert and later put up for sale –ready to be bartered for a bag of flour.
It was at this stage that Hans Bengler, a young Swedish entomologist who had ventured into the Kalahari Desert in the late nineteenth century looking for a "a previously undiscovered insect to name after himself and advance his career", found him locked in a cage which was then placed under the shop counter of his compatriot and host Andersson. Bengler then offered to adopt the boy as his son, before sailing back to Europe with him via Cape Town. This against the very direct and rather portentous warning from Andersson that Bengler would be merely ripping the boy up "by the roots so [he'd] fall dead in the snow of Sweden" (p. 62).
Subsequently, as the setting of the novel shifts from the interior of the Kalahari to the shores of nineteenth century Europe, the narrative also shifts from Bengler to being told more from the point of view of Daniel. In this way, the reader finally manages to get inside Daniel's head, as it were, and begin to understand his thinking and undying quest to return home to Africa in order to live amongst his people and the spirits of his forebears.
In Sweden, Daniel feels increasingly lost and restless. He is alienated from his own people (mom Be and pa Kiko – both dead in the sand at the hands of the German invaders), culture (Kiko's uncompleted drawing of an antelope carved on a piece of rock – which Daniel needed to get back to the desert to complete) and the familiar desert landscape (hot desert sand – rather than the ice-cold snow in Sweden). Twice Daniel has to be rescued from the sea and brought back to his Swedish foster parents, Edvin and Alma, after trying to escape and find his way back to the desert.
At this time, Hans Bengler, now a fugitive from Swedish justice himself, is back in the Cape and he writes to Daniel telling him that he would not be coming to Sweden in a very long time as he is preparing to go back into the desert again, only this time in a more north-easterly direction, possibly to an area within the territory of our modern day Botswana, in order to continue his search for more insects!
It is also during this time that Daniel, on the other side of the world, in Sweden, befriends and finds a soul-mate in a young hippie-like and seemingly retarded girl called Sanna who lives in the adjoining farm, next to Edvin and Alma's. Sanna, like Daniel, is an outsider in the community, hence their natural affection for each other. But, as the blurb of the book also states, "even this bond is destined to be violently broken as Daniel's isolation and increasing desperation leads to a chilling tragedy".
Daniel, the book, is quite a deep and engaging read that frequently reminds the reader of such canons of colonial literature in Africa as Joseph Conrad's Heart of Darkness, set in the Congo at about the same time. And, as one reviewer elsewhere has observed, this historical novel broaches an important subject that is as relevant today as it was more than a century ago.
©Kagiso Senthufhe, ix.i.xiii