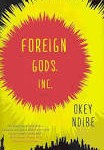 A Review of Foreign Gods, Inc. by Okey Ndibe
330 pages. Soho Press, Inc. $25.
There has been much fuss in the media regarding the credibility of Okey Ndibe's prose style. His debut novel, 'Arrows of Rain,' shares a close title with Chinua Achebe's 1964 novel, 'Arrow of God.' His deployment of the nuances in the ethical values of the Igbo people in his latest novel 'Foreign Gods, Inc,' is reminiscent of the author of the most read African novel in English. But the crucial point is what marks the difference between imitation and inspiration. While imitation means impersonation in a slavish form, inspiration means influence with a profound sense of ingenuity. 'Chinua Achebe has taught me much about life and literature,' Mr. Ndibe says loud and clear in the Acknowledgements to the novel.
'Foreign Gods, Inc.' is an overwhelming triumph, a bold testament to the invincible power of imagination and also to the ruinous obsession of its protagonist, Ike with life on high speed and the 'here and now.' The obsession here is the effigy of Ngene, his townsfolk god of war with a savage reputation for brutality in Southeastern Nigeria. The sacred totem pits this New York graduate but cab driver against several odds including Mark Gruels, owner of a posh art gallery in the city. As the novel opens, Ike walks into Gruels's gallery – the 'Foreign Gods, Inc.' of the title – to talk him into buying the effigy. He has, before now, gleaned from a magazine sent him by a friend that Gruels's gallery offers incredible prices for statues, carvings and curios from all around the globe. By putting Gruels under persistent pressure to offer a price for the statue which still sits at the corner of a shrine in his village, Utonki, we are let in on the unabating desperation of this character to seek a better life. But Gruels outwits him, refusing to make a deal until he sees the statue.
From here, the rising tension picks its way to the past, through Manhattan in the jumble of 'fast-moving pedestrians, its traffic, its…skyscrapers' before infiltrating Ike's one bedroom flat, where Bernita holds sway. Ike's life is falling apart already owing in part to his awkward lifestyle and also to his four-year-old marriage to his 'beloved' Bernita, humorously called Queen B because of her bee-like irascibility. Slowly, the heat intensifies around him, having discovered Bernita has been sleeping around with men. In the ensuing divorce battle, he is fleeced almost to the skin by this nympho, whose real lust could not be pinned down between sex and money. Ike, in his own past encounters, had dated women of different stripes and shades and would have obtained his green card much earlier and averted t a bad marriage, had he been patient with his college girlfriend.
Emboldened by the friend that sent him the magazine to steal the effigy, stirred by emails from his family in Nigeria to come home, he seems on his way to a better life. He borrows $1,000 dollars from another buddy together with the remains of his savings and obtains a credit card that charges an outrageous 28.9% interest rate.
Ike arrives his native Nigeria to meet communalism supplanted by individualism, lively village squares give way to ivory towers, common love to pernicious greed, heightening Salman Rushdie's sentiments that 'civilisation is the sleight of hand that conceals our nature from ourselves.' We are not left out of the mind games played by predatory preachers, especially Pastor Uka, who milks his poor congregation at will through heartless theatrics. He sets Ike's mother against his uncle, the chief priest of Ngene and attempts to inveigle him to part with a whopping $50, 000 for a church project. It is in this hostility that the novel catches its resonance. Mr. Ndibe takes the liberty of language to reveal the rich nuances of his style – its hard-earned sensuality imbued with the sight, taste, smell, voice and prickle of things. There is no disputing his power as a master of evocative prose, considering how he handles trope so assuringly, sometimes to gripping, sometimes to witty effects.
There are moments, however, in the story, which come across more as obvious footdragging than a needful attempt at building up the pressure of expectancy. The amusing scene where kids, watching Michael Jordan's past exploits at the NBA, fantasize about what they would do if they were as rich as he is overdone, for instance.
At the village, the effigy is highly valued by its devotees though hardly is any of them aware that the war prowess of their gods belongs to the past. The emergency of British imperialism banned communal clashes: Ngene's forte through which it inflicted peerless devastation on neighbouring clans. Left in the hand of a sloppy carver, Ngene's body is not depicted in an attitude of warfare but rather in a relaxed and idle pose, no more than a lifeless piece of artifact kept in a shrine. The spirit, however, inhabits a river on the outskirts of the village. 'When he outlawed wars and disarmed warriors, the white man stripped Ngene of its offices. Had the deity been a mere puppy, instead of the former scourge of enemy cavalries, the white man might have banished it altogether.'
Skulking into the shrine of Ngene one night, Ike accomplishes his mission without anyone knowing. His uncle, the chief priest is fast asleep as this brazen desecration goes on. At this point, the novel assumes the solid personality of a morality tale, leaving out only the consequences of Ike's action as he plans his journey back to New York.
A remarkable scrutiny of the feelings of disorientation and disillusionment that often mark the immigrant life, 'Foreign Gods, Inc.' raises the accent question as the nightmare of such experience. We appalled by how helpless Ike's cum laude grade in Economics is when he faces a job interview in an investment company on account of his 'crappy accent.' 'Accent' is the weapon with which Queen B stings. In Ike's dealing with Mark Gruels, 'accent' again becomes the stratagem with which Gruels gives him a treatment less honourable to bear than cry out at the marketplace with every one watching.
---
About the Reviewer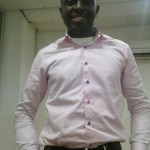 Based in Nigeria, Ronald Adamolekun has published literary criticism in DailyPost (dailypost.ng), the Nigerian online newspaper. He has a Bachelor of Arts in English and Literary Studies from Covenant University, Ota, Nigeria and is to start a Master's of Arts degree in English and Creative Writing at University of Westminster, London come September 2014.